Bernie Sanders Insists There Will Be a 'Serious Debate' The Day After Biden is Elected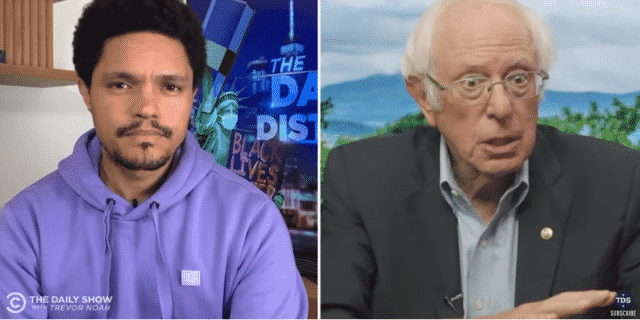 Sen. Bernie Sanders (I-Vt.) reiterated his commitment to supporting and electing Democratic presidential nominee Joe Biden but also insisted they must have a "serious debate" about the country's new direction.
During an appearance on "The Daily Show" with host Trevor Noah, Sanders declared that the Democratic Party would unify for a Biden victory against Trump. However, he also stressed the importance of the country's future being built on "the framework of a Democratic society."
"We're going to come together to defeat Trump," Sanders said on Thursday. "And the day after Biden is elected, we're going to have a serious debate about the future of this country, but it will be done within the framework of a democratic society."
Sanders' latest remarks come amid his push for the presence and influence of more progressive lawmakers and policies within the Democratic Party.
Shortly after Sanders suspended his presidential campaign, he rallied behind Biden and the two vowed to work together to reach the common Democratic goal of voting President Donald Trump out of the White House.
See Sanders' remarks below:
At the time, Biden and Sanders released a statement unveiling their "Unity Task Force" to "'explore possible policy initiatives' in six key policy areas: "climate change, criminal justice reform, economy, education, health care, and immigration," as previously reported on IJR.
Former Secretary of State John Kerry (D), Rep. Alexandria Ocasio-Cortez (D-N.Y.), Rep. Karen Bass (D-Calif.), Rep. Pramila Jayapal (D-Wash.), and former U.S. Surgeon General Vivek Murthy were among the politicians named as participants in the initiative.
During the discussion with Noah, Sanders detailed how they are all uniting to achieve what he describes as "coalition politics."
"What you're seeing now is what I would call a united front of people of many different points of view," Sanders told Noah. "You have some honest conservatives who are saying 'you know what, I'm a conservative, but we gotta get rid of this guy because he is just not what America is supposed to be about.' And you're working with progressives. So this is what coalition politics is about."