News
Watch: Scarborough Asks Why Trudeau Didn't Take a Tougher Approach to Protesters Earlier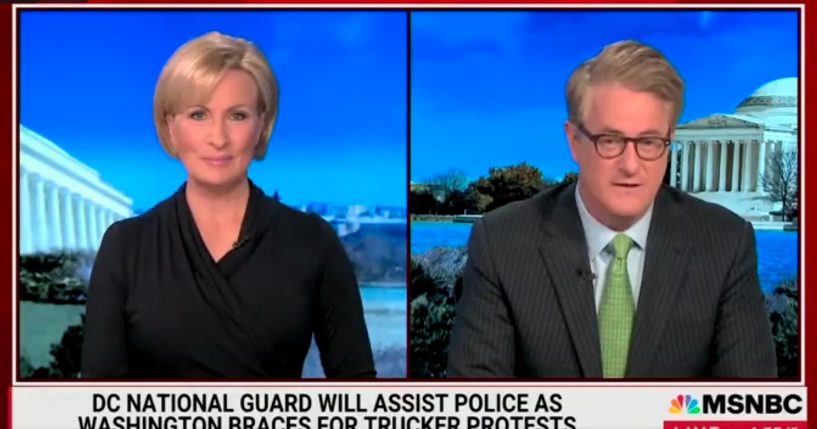 MSNBC's Joe Scarborough is suggesting that Canadian Prime Minister Justin Trudeau should have taken tougher steps to break up the so-called "Freedom Convoy" protests sooner than he did.
During a segment on "Morning Joe" Wednesday, Scarborough said, "I really don't understand what Prime Minister Trudeau was doing. It seems that they went out of the first several weeks, knocked on the windows, and said, 'What's this about?'"
"Seriously, it's just not that hard. You get police officers to go out, and they bang on the window, roll it down, and say, 'Hey, you need to move this. If you don't move this, we're going to arrest you, we're going to charge your company, and we're going to impound your truck. That would happen in New York City. That would happen in a lot of cities across the country. And I'm not exactly sure why it didn't happen in Canada," he added.
Advertisement - story continues below
Watch the video below:
MSNBC's @JoeNBC, arguing Trudeau didn't crack down hard enough, says, "you're not conservative" if you support truckers-led civil rights protests.

"This is what conservatives fought against in the 1960s and the 1970s." pic.twitter.com/EyvoHc8CnF

— Tom Elliott (@tomselliott) February 23, 2022
Earlier this month, truckers converged on Ottawa, Canada, and border crossings, to protest COVID-19 vaccine mandates. The protesters used their trucks to block traffic and shut down border crossings and streets in Ottawa.
While there were not reports of widespread violence, there were reports of property damage during the protests as well as complaints that the truckers were honking their horns which Ottawa Mayor Jim Watson claimed is "tantamount to psychological warfare."
Advertisement - story continues below
After about three weeks of the protests, Trudeau invoked the Emergencies Act to break up the demonstrations. The emergency powers allowed officials to freeze bank accounts, ban public assembly, restrict travel, seize trucks used in the protest, and compel tow trucks to remove the vehicles blocking streets.
Over the weekend, police in riot gear broke up the demonstrations in Ottawa. Law enforcement reportedly used tear gas and stun grenades to disperse the protesters and arrested roughly 200 demonstrators. They towed over 70 trucks away as well.
Should Trudeau have moved sooner to break up the protests?
Officials brought 389 charges against 103 of the protesters.
Truth and Accuracy
We are committed to truth and accuracy in all of our journalism. Read our editorial standards.
Comment Down Below
Conversation