Sen. Tim Scott Criticizes Trump for Clearing Lafayette Square for a Photo-Op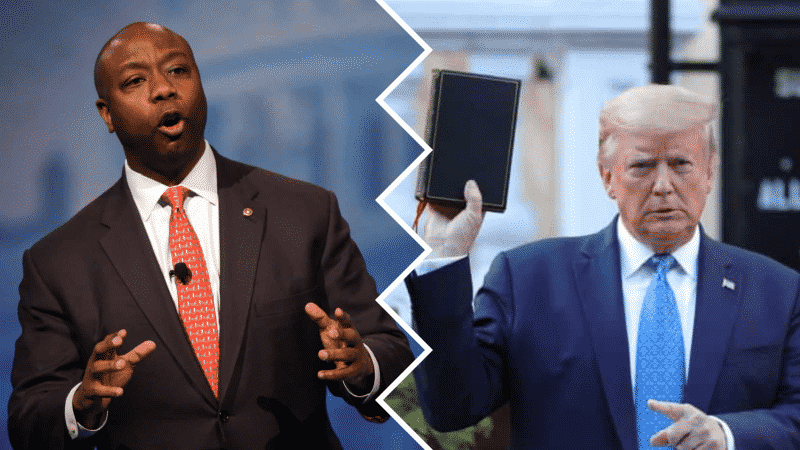 President Donald Trump is receiving criticism from both sides of the political aisle after law enforcement cleared peaceful protesters from the area in front of the White House ahead of the curfew on Monday.
After the president delivered remarks on violent demonstrations that have swept the nation, he walked through Lafayette Square — where protesters were gathered before his speech — to the historic St. John's Church where he posed with a Bible.
Sen. Tim Scott (R-S.C.) told Politico on Tuesday that Trump should not have cleared the peaceful protesters for the moment, "If your question is, should you use tear gas to clear a path so the president can go have a photo-op, the answer is no."
Trump's decision to clear Lafayette Square comes after days of violent demonstrations erupted across the country in the wake of George Floyd's death.
Floyd died in police custody on May 25 after a Minneapolis police officer pinned him to the ground by placing his knee on Floyd's neck. That officer has been charged with third-degree murder and manslaughter.
Many protests across the country have been peaceful, and in some instances, police officers have knelt in solidarity with the protesters.
But in several cities, the demonstrations have turned violent as protesters started looting, burning, and vandalizing property.
Trump responded to the violence in an address at the White House on Monday, "We cannot allow the righteous cries of peaceful protesters to be drowned out by an angry mob."
"In recent days, our nation has been gripped by professional anarchists, violent mobs, arsonists, looters, criminals, rioters, Antifa, and others," he added.
Trump vowed to "stop the violence" and said that if governors and mayors did not reign in the violence, he would deploy the military to do so.
After his speech, Trump walked out of the White House to St. John's church for a picture.
But he has received criticism from politicians and faith leaders for the move, as IJR reported.
Scott, who is the only black Republican senator, has not been afraid to criticize Trump for his comments in the wake of Floyd's death
During an interview on Fox News' "Fox News Sunday," Scott said he told Trump that some of his tweets about the protests are "not constructive."
He added, "I'm thankful that we can have the conversation. We don't always agree on any of his tweets beforehand, but we have the ability to sit down and dialogue on how we move this nation forward."
Despite his criticism of Trump's photo-op, Scott said he approves of the president's push to quell the violence.
"Order is necessary for us to actually have the conversation about Mr. Floyd," he said, adding, "We have to be willing to have a raw conversation about justice in this nation."