News
Sen. Cassidy Asked About Low Vaccination Rate in Louisiana, Blames 'Partisan Statements' From the WH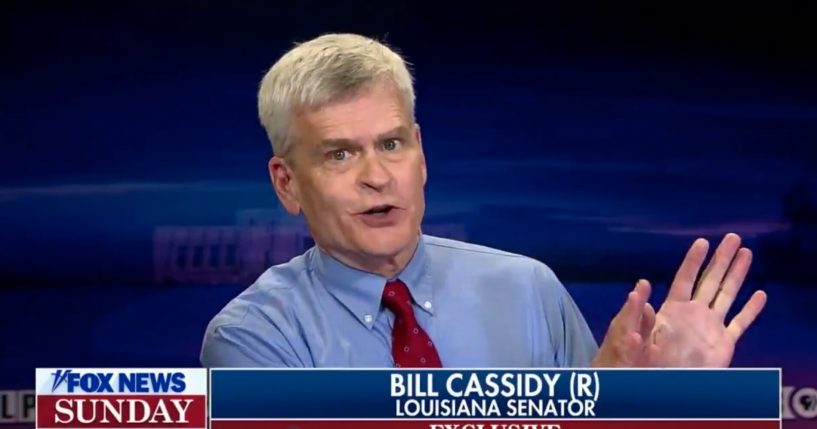 Sen. Bill Cassidy (R-La.) argues that the low vaccination rate in his home state is at least partially the result of what he calls "partisan statements" coming from President Joe Biden.
Fox News' Chris Wallace noted that Cassidy's home state is the fifth-lowest state in terms of vaccination rate and asked, "You're a medical doctor. Your thoughts about that, about the resistance to the vaccine in Louisiana, and is there anything you can and plan to do about it?"
"People are surprised when citizens don't trust government, when you have partisan comments coming out of the White House regarding next Jim Crow laws, or people like Senator Schumer and the White House not cooperating on a bipartisan bill," Cassidy responded.
Advertisement - story continues below
He continued, "'Oh, here we're gonna be partisan, but over here, you better trust us.' That just doesn't work. But I would also argue as a physician, you need to go back to your healthcare workers. It shouldn't be the president advocating. Again he's depicting himself as uber partisan. You need to have your doctor, your nurse, your physician's assistant who's speaking to the patients they normally care for, they see at the PTA meeting, they otherwise communicate, 'This is good, it saves lives.'"
Watch the video below:
Asked about Louisiana's low vaccination rate, Sen. Bill Cassidy blames the White House's alleged "incredibly partisan statements" for the fact his constituents don't trust officials when they say the vaccine is safe (this receives no pushback from Chris Wallace) pic.twitter.com/GXZrEJOtum

— Aaron Rupar (@atrupar) July 18, 2021
The Louisiana senator noted that he tries to educate people about the coronavirus vaccines and noted that he shared a tweet on Sunday encouraging people to get vaccinated.
Advertisement - story continues below
Louisiana needs to get our vaccination rates up if we're going to fully beat this pandemic. We can't accept anymore death. Vaccines are like seatbelts—you want to have it before the accident happens.https://t.co/d5t6TTIDCU

— U.S. Senator Bill Cassidy, M.D. (@SenBillCassidy) July 18, 2021
"You choose either to be vaccinated or to accept a higher rate of unnecessary death. That's the way to communicate through your physician, your nurse, your P.A., etc., not through some uber-partisan person who asks us to trust them except when they're making incredibly partisan statements," he added.
Truth and Accuracy
We are committed to truth and accuracy in all of our journalism. Read our editorial standards.
Comment Down Below
Conversation