News
Sen. Rick Scott on CDC Mask Guidance: 'Democrats Want To Use Fear To Control Us'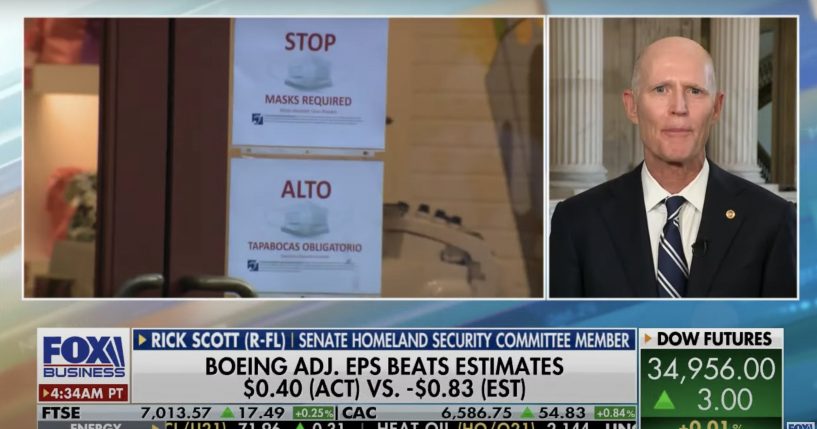 Sen. Rick Scott (R-Fla.) says the new mask guidance issued by the Centers for Disease Control and Prevention (CDC) does not "make sense."
He said during a Wednesday Fox News interview, "I mean, Democrats want to use fear to control us. So if we got the vaccine, I did, then why do I have to wear a mask?"
Scott added, "We can't shut down schools. We can't shut down. I mean, think about the parent that's worried about their child's education or the small business owner that's worried about making ends meet and the employee that needs a job. I mean, the Democrats want to control our lives."
Advertisement - story continues below
Arguing lawmakers need to stand up to the CDC, Scott explained, "You need to put out information, give us better information. You know, we're smart. We can make good decisions for ourselves. We don't need you to tell us to wear a mask."
Watch his comments below:
Scott also encouraged people to get the vaccine if they can, continuing, "But if you don't, that's a choice you get to make."
Advertisement - story continues below
The CDC announced on Tuesday it is recommending people wear masks indoors in areas with high transmission rates.
"We're seeing now that it's actually possible if you're a rare breakthrough infection that you can transmit further, which is the reason for the change," CDC Director Rochelle Walensky said.
White House Press Secretary Jen Psaki defended the mask mandate during a press briefing, as IJR reported.
"I know this is slightly awkward timing," Psaki said. "We're still in the midst of a once-in-a-generation pandemic battling an ever-evolving virus."
The Capitol Physician, Dr. Brian Monahan, also said in a memo on Tuesday the House would be reinstating its mask mandate, as IJR reported.
Advertisement - story continues below
House Minority Leader Kevin McCarthy (R-Calif.) took issue with the announcement. He tweeted, "Make no mistake—The threat of bringing masks back is not a decision based on science, but a decision conjured up by liberal government officials who want to continue to live in a perpetual pandemic state."
Truth and Accuracy
We are committed to truth and accuracy in all of our journalism. Read our editorial standards.
Comment Down Below
Conversation