News
Sen. Ron Johnson Receives Four 'Pinocchios' for 'Campaign of Vaccine Misinformation'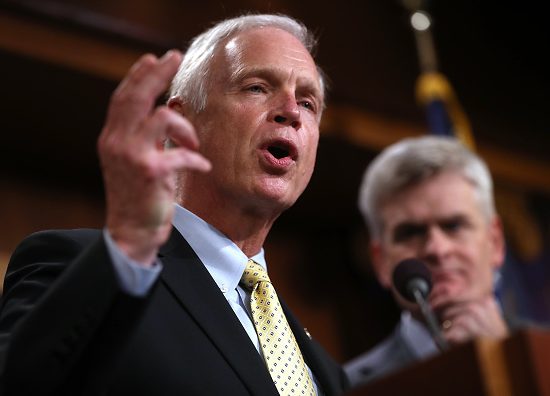 The Washington Post is giving Sen. Ron Johnson (R-Wis.) four "Pinocchios" for repeating "two unscientific claims" during a Fox News interview.
"The fact of the matter is it looks like natural immunity is as strong if not stronger than vaccinated immunity. … There is a risk to the vaccine. Again, it's very small, but there are some pretty serious side effects, including death. We are already over 5,200 deaths reported on the VAERS system. That's a CDC, FDA's early warning system," Johnson said during an interview with "Hannity" on Fox News earlier this week.
The fact-checker argued Johnson has been for months "peddling misinformation about coronavirus vaccines, undeterred by fact checkers, federal health agencies, medical experts and a growing body of scientific research."
Advertisement - story continues below
The analysis points out doctors, public health experts and the Centers for Disease Control and Prevention say to get the COVID-19 vaccine even if you have had the virus.
The Post notes several studies have shown "natural immunity can fade over time and its duration varies by person."
According to another study, a single shot of the Pfizer or Moderna vaccine "boosted neutralizing titers against all [covid-19] variants and [SARS] by up to 1000-fold" in subjects who previously had the virus.
The analysis went on to fact-check Johnson's claim regarding the side effects of the vaccine. Mentioning Johnson's use of reports from the Vaccine Adverse Event Reporting System, the fact-checker explains, "No study or case has established this. The VAERS database does not say coronavirus shots caused the reported deaths."
Advertisement - story continues below
It continues, "Anyone can submit a report to VAERS; they are not verified."
The CDC also says "no evidence has established coronavirus vaccines as the cause of any death," according to the outlet.
Should Johnson have received four "Pinocchios?"
The Post accused Johnson of "disregarding scientists' published findings about vaccine immunity and the clear guidance from federal health agencies and doctors."
The analysis reads, "We don't know what motivates this one-man campaign of misinformation on a vital public health issue, but it's clear this is a deliberate effort and not just a few stray comments."
It concludes, "Johnson earns Four Pinocchios. As we said in March, we intend to fact-check the senator whenever he makes false or misleading claims about this issue."
Truth and Accuracy
We are committed to truth and accuracy in all of our journalism. Read our editorial standards.
Comment Down Below
Conversation