Sen. Tammy Duckworth Tells Trump 'Don't Even Think About' Sending Federal Agents to Chicago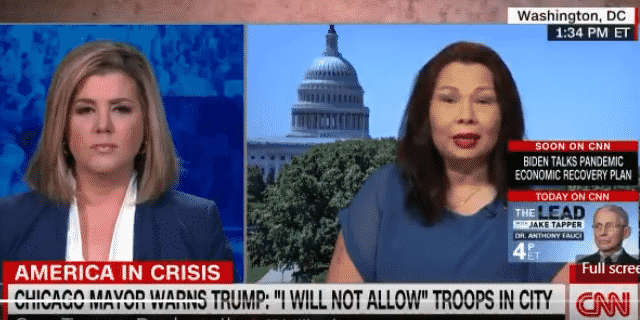 Sen. Tammy Duckworth (D-Ill.) is sending a message to President Donald Trump as the president is suggesting sending federal agents to multiple cities across the United States.
During an appearance on CNN on Tuesday, Duckworth was asked about her reaction to Trump "threatening to send federal law enforcement to Chicago and other cities like New York, Philadelphia, and Detroit."
Duckworth — former U.S. Army Lieutenant Colonel and former combat veteran of the Iraq War — quickly fired back with her response as she told the president, "Don't even think about it."
"This is disgusting and it is the further politicization of our institutions which should be non-partisan," Duckworth continued. "He did it with the military when he sent National Guard troops against peaceful protesters in Lafayette Square. And now he's done it in Portland and he's coming to Chicago."
"Don't even think about it," she reiterated.
The Democratic senator challenged Trump to focus his efforts on legislation to combat gun violence.
"If you want to do something about gun violence, call Mitch McConnell. Let's have a vote on the floor today on universal background checks and straw purchases of guns," she said. "Let's go after gun trafficking."
Duckworth continued, "You want to do something? Call Mitch McConnell and have that vote. It would pass."
See Duckworth's remarks below:
Sen. Tammy Duckworth on President Trump's threat to send federal agents to Chicago: "Don't even think about it in Chicago, and certainly not anywhere in this country. It is wrong, and I'm going to work very hard to stop him" https://t.co/TCo13k9GOB pic.twitter.com/bvmuFFyCC2

— CNN Politics (@CNNPolitics) July 21, 2020
The Trump administration will deploy 150 Homeland Security Investigations agents to Chicago to combat "gang violence," officials tell me, confirming a @chicagotribune report. I'm told the deployment will last 60 days and additional federal agents are expected to be deployed

— Zolan Kanno-Youngs (@KannoYoungs) July 20, 2020
Duckworth's remarks came less than one day after Chicago Mayor Lori Lightfoot (D) echoed similar sentiments in response to Trump's threat.
On Monday, Lightfoot released a four-page letter outlining her concerns about federal agents being deployed into the streets of Chicago. She also expressed her disapproval of Trump's remarks.
"What we do not need, and what will certainly make our community less safe is secret, federal agents deployed to Chicago," Lightfoot wrote.
She added, "Any other form of militarized assistance within our borders that would not be within our control or within the direct command of the Chicago Police Department would spell disaster."
Mayor Lightfoot's lette… by Block Club Chicago on Scribd
Despite growing concern and criticism about federal troops being on the ground, the president has not suggested he would be changing his plans.
On Monday, he told reporters, "I'm going to do something, that I can tell you. Because we're not going to let New York, and Chicago, and Philadelphia, and Detroit, and Baltimore, and all of these … Oakland is a mess. We're not going to let this happen in our country."
The president also said, "We'll have more federal law enforcement, that I can tell you."