News
'Killer-in-Chief': Son of 9/11 Victim Demands Biden Does Not Show Up To Memorials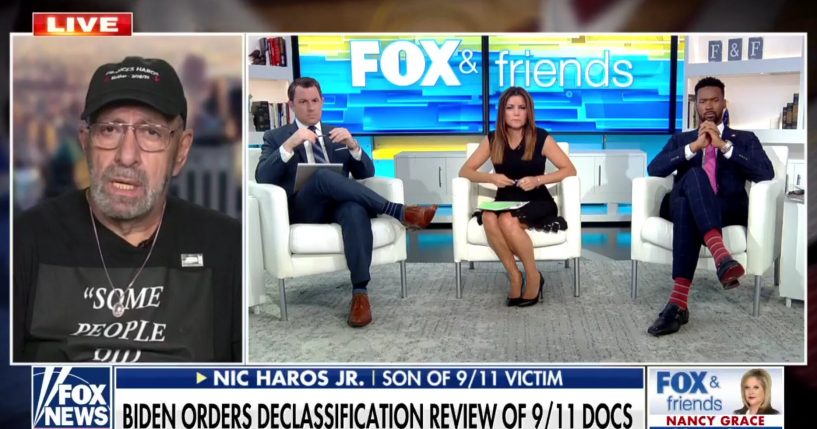 The son of a 9/11 victim is demanding that President Joe Biden does "not show his face at Ground Zero" on the anniversary of the attack.
Nic Haros Jr. told Fox News during an interview Monday, "It is now holy ground and I really don't think he has a place there."
He added, "It's shameful for him, I think, to use the dead bodies as a political prop for his so-called victory lap. He is insensitive and he shows no compassion to the families. No Joe, no victory, we are now in the Afghanistan War 2.0. Those resurrected victims kept America safe from harm all those years. Biden must not dishonor their grace and patriotism."
Advertisement - story continues below
Haros Jr. went on to call out Biden for being "the killer-in-chief," continuing, "It's not just 13 killed or the thousands of Americans and Afghanistan supporters left to die. I believe he is complicit in a coming genocide of Americans and Afghans."
Watch his interview below:
Advertisement - story continues below
Fox News notes his mother, Frances, lost her life in the attack on the World Trade Center.
Should Biden show up to the memorials?
Haros Jr. is not the only one to oppose Biden's presence at the memorial events. NBC News reported Monday nearly 1,800 family members of victims, first responders and survivors are telling Biden not to come to memorial events unless he declassifies evidence they are convinced connects Saudi Arabian leaders with the attacks.
"We cannot in good faith, and with veneration to those lost, sick, and injured, welcome the president to our hallowed grounds until he fulfills his commitment," they said in a statement obtained by NBC News.
They added, "Since the conclusion of the 9/11 Commission in 2004 much investigative evidence has been uncovered implicating Saudi government officials in supporting the attacks."
Advertisement - story continues below
The statement argues, "Through multiple administrations, the Department of Justice and the FBI have actively sought to keep this information secret and prevent the American people from learning the full truth about the 9/11 attacks."
On Friday, Biden ordered a declassification review of documents related to the FBI's investigation of the attacks.
"The executive order requires the Attorney General to release the declassified documents publicly over the next six months," Biden said in a statement. "My heart continues to be with the 9/11 families who are suffering, and my Administration will continue to engage respectfully with members of this community. I welcome their voices and insight as we chart a way forward."
Truth and Accuracy
We are committed to truth and accuracy in all of our journalism. Read our editorial standards.
Comment Down Below
Conversation