Southwest CEO Calls on People To Fly, Despite CDC Advising People To Not Travel Amid Pandemic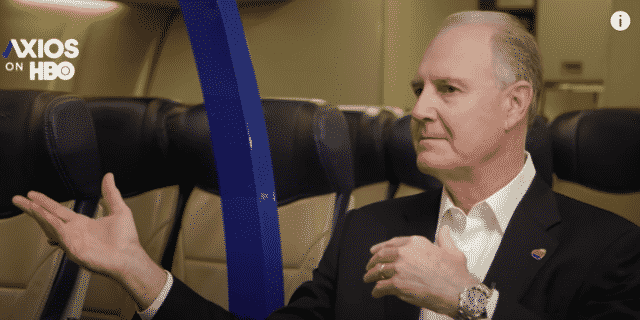 Despite advice from the U.S. Centers for Disease Control and Prevention (CDC), the CEO of Southwest Airlines is calling for people to hop on a plane.
Southwest Airlines CEO Gary Kelly spoke with "Axios on HBO" where he told Axios' Felix Salmon, "You should fly."
Salmon mentioned a member of President-elect Joe Biden's coronavirus advisory board warning against travel during the holidays amid a "fire blazing" with the coronavirus pandemic, saying it is "like pouring gasoline on a fire."
Kelly, however, said, "The problem is not being on the airplane. The problem is what you do off the airplane, quite frankly." Though Kelly said the problem is not on the airline, as Axios notes, health officials have not come to a conclusion yet on that.
The Southwest Airlines CEO added, "The challenge is when the families get together, and they're not wearing their mask and they're having dinner and drinks and whatnot. Those are all very high risk."
"What we want to do is provide the opportunity for people to travel as they choose, but to make sure that it is as safe as we can possibly make it."
Watch the interview below:
Additionally, Kelly noted, "The demand for travel is stronger in November and December than it has been even over the last couple of months. But we're still going to be down 60% or 65%. So that's better than being down 70%, but a long way away from success."
He continued, "Without the holiday demand in November and December. I'm worried about January."
The U.S. has reported 173,165 COVID-19 cases per day on average over the past week, compared to the two weeks prior — a 49% increase, according to The New York Times.
Ahead of the holidays, the CDC put out a statement advising Americans to stay home for Thanksgiving, as IJR reported.
"Travel may increase your chance of getting and spreading COVID-19. Postponing travel and staying home is the best way to protect yourself and others this year," the CDC said.
As for President Donald Trump and President-elect Joe Biden (D), the president and first lady will be spending Thanksgiving at the White House and Biden has said there will be only three people at his Thanksgiving gathering.