News
Stacey Abrams Says She Did Not 'Challenge the Outcome' of the Georgia Gubernatorial Election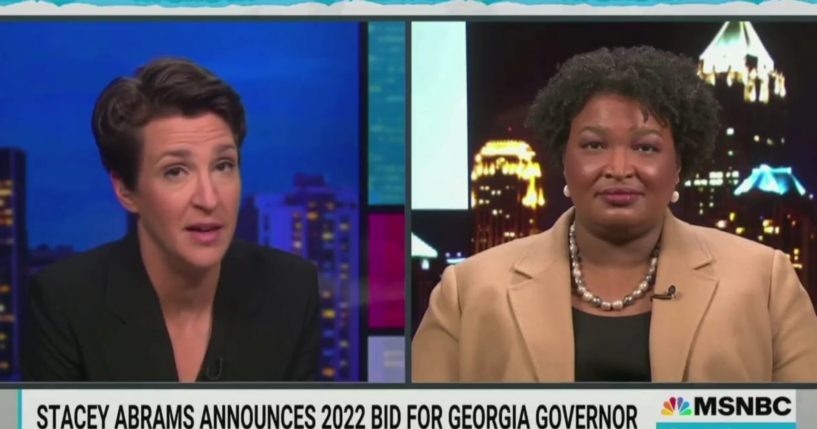 Democrat Stacey Abrams responded to a question about not conceding to Georgia Gov. Brian Kemp (R) during the 2018 governor's race, saying she did not "challenge the outcome."
MSNBC's Rachel Maddow noted Thursday night when Abrams "so narrowly lost," she was "contentious about the loss."
Maddow added, "Saying that you didn't necessarily think it had been a fair fight."
Advertisement - story continues below
Abrams explained, "On the 16th of November when I acknowledged that I would not become governor, that he had won the election, I did not challenge the outcome of the election unlike some recent folks did."
She appeared to be referencing former President Donald Trump's efforts to challenge the 2020 election results.
Abrams continued, "What I said was that the system was not fair, and leaders challenge systems. Leaders say we can do better. And that's what I declared."
Rachel Maddow Asks Stacey Abrams About Not Conceding to Kemp: 'You Famously Were Contentious About The Loss' https://t.co/7hphXMMKhc via @mediaite pic.twitter.com/ewM8jUDWAq

— Tommy moderna-vaX-Topher (@tommyxtopher) December 3, 2021
Advertisement - story continues below
The Democrat suggested she "could not in good conscience say that in order to protect my political future I'm going to be silent about the political present, which is that we have a system under a leader that sought to keep people from casting their ballot, that threw those ballots out, that said that voter suppression was a viable tactic for winning elections."
Following the 2018 election, Abrams made it clear her speech was "not a speech of concession," adding, "Because concession means to acknowledge an action is right, true or proper."
She continued, "As a woman of conscience and faith, I cannot concede that. But, my assessment is the law currently allows no further viable remedy. Now, I can certainly bring a new case to keep this one contest alive, but I don't want to hold public office if I need to scheme my way into the post. Because the title of governor isn't nearly as important as our shared title – voters. And that is why we fight on."
As CNN noted, Abrams previously called Kemp an "architect of voter suppression."
Her MSNBC appearance comes just two days after announcing she is running for governor of Georgia in 2022, as IJR reported.
Advertisement - story continues below
"I'm running for Governor because opportunity in our state shouldn't be determined by zip code, background or access to power," Abrams tweeted.
Truth and Accuracy
We are committed to truth and accuracy in all of our journalism. Read our editorial standards.
Comment Down Below
Conversation