News
Some Staffers Reportedly Leaving White House Due to Fear of Being Known as a 'Harris Person'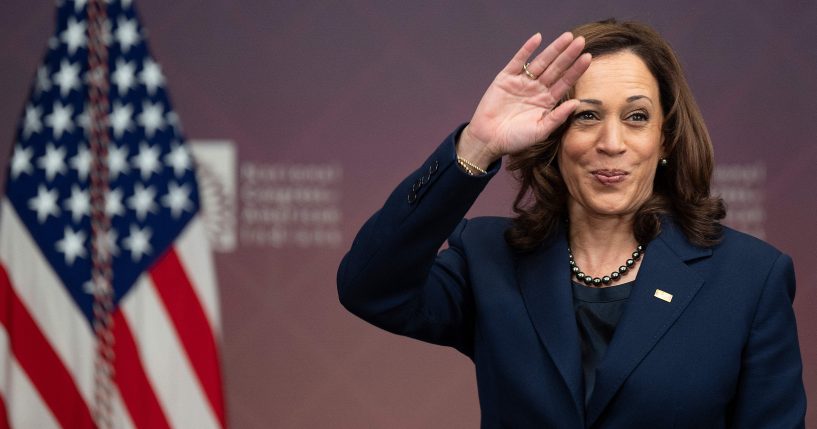 Some staffers are leaving the White House, in part, due to the fear of becoming a "Harris person," according to a report.
Axios reported on Friday people familiar with the situation say "burnout, better opportunities and concern about being permanently branded a 'Harris person' is driving some of the turnover" in Vice President Kamala Harris' office.
One Democratic strategist told the outlet the vice president needs "someone loyal, who can think methodically to best position the vice president and to make sure everything she's doing is being maximized and communicated to a broad population and get her numbers up."
Advertisement - story continues below
According to Axios, another Democratic operative close to Harris' office claims the departures are adding "pressure to Harris' chief of staff, Tina Flournoy, to avoid an internal collapse and external criticism."
The operative added, "If we mess this up, it's going to set women back when it comes to running for higher office for years to come."
The report comes just days after Symone Sanders, a senior adviser and chief spokesperson for Harris, announced she is leaving, as IJR reported.
An official told Politico Harris and President Joe Biden have "known for a while" about Sanders' plan to leave.
Advertisement - story continues below
"I'm so grateful to the VP for her vote of confidence from the very beginning and the opportunity to see what can be unburdened by what has been," Sanders said in a note to staff.
She added, "I'm grateful for [Harris chief of staff] Tina [Flournoy] and her leadership and her confidence as well. Every day, I arrived to the White House complex knowing our work made a tangible difference for Americans. I am immensely grateful and will miss working for her and with all of you."
Flournoy also said in a note to staff, "Symone told the VP a couple months ago that she'd be leaving us at the end of the year. I've often said about her that no job is too big or too small for Symone."
Last month, Harris' communications director, Ashley Etienne, announced she would be leaving her post, as IJR reported.
An official for the White House told Fox News, "Ashley is a valued member of the Vice President's team, who has worked tirelessly to advance the goals of this administration," adding, "She is leaving the office in December to pursue other opportunities."
Truth and Accuracy
We are committed to truth and accuracy in all of our journalism. Read our editorial standards.
Comment Down Below
Conversation