Op-Ed
Review: 'Star Trek: Strange New Worlds' is a Fresh Take on a Legendary Franchise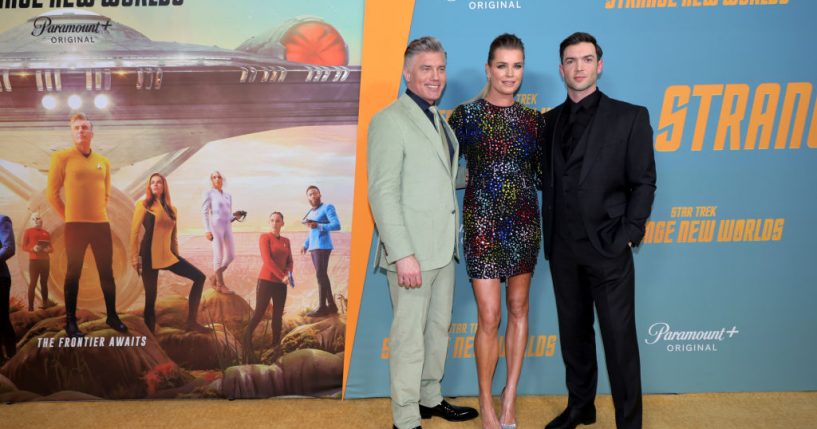 Exclusive
Paramount+'s "Star Trek Strange: New Worlds" is a fresh new version of the famed franchise that feels like the original series – but in a good way.
Instead of basing the series on an entirely new ship with an entirely new crew, "Strange New Worlds" follows the crew of the U.S.S. Enterprise under the command of Captain Christopher Pike as they carry out its mission: "To explore strange new worlds. To seek out new life and new civilizations. To boldly go where no man has gone before."
While there are some new characters, and the absence of other crew members from the original series, the show maintains a sense of familiarity are some familiar characters, such as Spock.
Advertisement - story continues below
It also includes several tasteful throwbacks to the original series, from the costumes to the musical cues. As for the Enterprise itself, it has some modern updates to make it contemporary, but it keeps some features from the original show as nice easter eggs.
The writers make sure to throw in well-timed light-hearted moments that bring relief to the show and make it easier to watch without feeling weighty, and also bring a very human quality that helps make the characters feel more realistic.
After the "woke" series, "Star Trek: Discovery," it is refreshing to have a show that addresses philosophical questions and social issues without feeling like it's pushing an agenda. 
"Discovery" seems like it had been consumed by the culture war and a need to highlight diversity – even giving Democratic Georgia Gubernatorial candidate Stacey Abrams a cameo.
Advertisement - story continues below
By contrast, "Strange New Worlds" returns to the original series' style of addressing issues such as discrimination within the confines of the show – between different species for example – and it doesn't feel forced or awkwardly injected into the story. But underlying those discussions is the truth that everyone has inherent worth and dignity regardless of their abilities.
The reprieve from putting our world's social issues front and center, at the very least, seems not to hurt the show's ratings. "Strange New Worlds" receives a 98% score from critics on Rotten Tomatoes and an 80% from the audience. Meanwhile, "Discovery" received an 86% from critics but just a 36% from the public. 
One of the few disappointing parts of the show is that it is a streaming series, so you'll need a Paramount+ subscription to watch it. It is also capped at 10 episodes that last roughly 50-minutes, and some episodes feel like they wrap up very abruptly.
But overall, it's a fun show that stays true to the franchise and is definitely worth watching if you're a "Star Trek" fan or just looking for a new show. 
The views expressed in this opinion article are those of their author and are not necessarily either shared or endorsed by the owners of this website. If you are interested in contributing an Op-Ed to The Western Journal, you can learn about our submission guidelines and process here.
Truth and Accuracy
We are committed to truth and accuracy in all of our journalism. Read our editorial standards.
Comment Down Below
Conversation