News
Video: Stacey Abrams Makes Appearance on 'Star Trek: Discovery'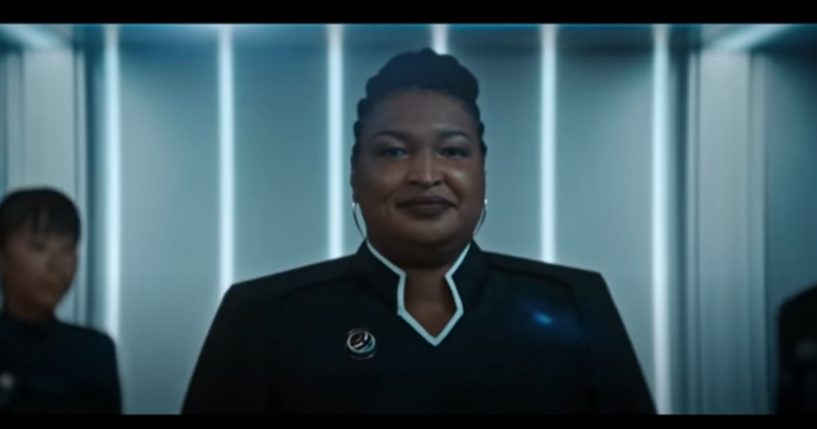 Democratic Georgia gubernatorial candidate Stacey Abrams embarked on a new adventure that is out of this world.
Abrams took on the role of president of the United Earth on the season 4 finale of "Star Trek: Discovery."
During her appearance, Abrams walks off of a spaceship. She is then greeted as "Madam President."
Advertisement - story continues below
One character said, "Welcome. I am so pleased that you've come. We are eager to begin diplomatic discussions."
Abrams, as her character, responded, "Nothing to discuss. United Earth is ready right now to rejoin the federation. And nothing could make me happier than to say those words."
Watch the video below:
Advertisement - story continues below
Executive producer Michelle Paradise told Variety as they "started to look ahead to the finale, we realized we are going to need a face for this moment, someone to represent Earth."
Paradise and other writers reportedly recalled interviews in which Abrams called herself a diehard "Trek" fan.
"When the time came to start talking about the president of Earth, it seemed like, 'Well, who better to represent that than her?'" Paradise said.
Variety reported that the producers reached out to Abrams. She agreed to do the show on the condition that they do not spoil anything for her.
"She was very specific about that," Paradise said. "She wanted to be able to just watch it and enjoy when the show finally came out. So, yeah, we avoided all the spoilers."
Advertisement - story continues below
Actress Sonequa Martin-Green praised Abrams for how she approached the role.
"She was just so comfortable with what she was doing, and knew exactly how to be and where to go and everything," Martin-Green said, adding, "I guess I shouldn't have been surprised."
In May 2021, Abrams opened up about whether she has ambitions to run for president.
"Do I hold it as an ambition? Absolutely," she said during an interview with "CBS Sunday Morning."
Advertisement - story continues below
Abrams added, "And even more importantly, when someone asks me if that's my ambition, I have a responsibility to say 'Yes,' for every young woman, every person of color, who sees me and decides what they're capable of based on what I think I am capable of."
Truth and Accuracy
We are committed to truth and accuracy in all of our journalism. Read our editorial standards.
Comment Down Below
Conversation