News
Students to Be Disciplined Over 'Blacks Only,' 'Whites Only' Signs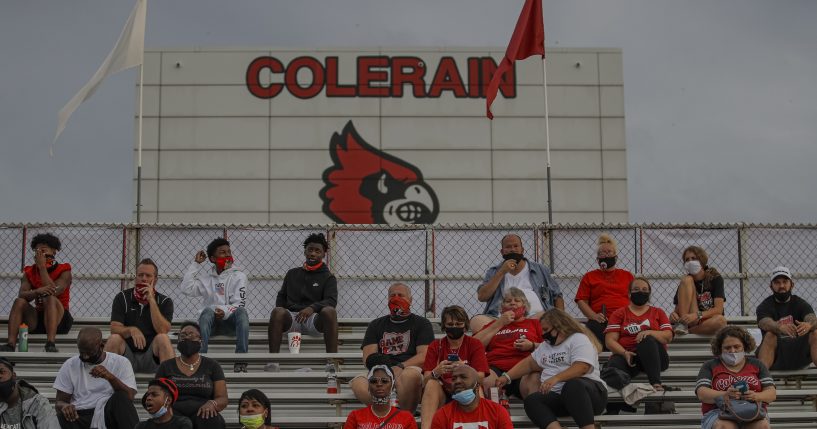 High school students who taped "Blacks only" and "whites only" signs over water fountains will reportedly be disciplined.
According to NBC News, the Northwest Local School District made the announcement after the incident was broadcast by a local news station.
Officials were reportedly made aware of the incident at Colerain High School in Ohio on May 5.
Advertisement - story continues below
The outlet noted the district learned the students posted the signs on the walls for about 30 seconds.
They proceeded to take pictures and later took the signs down.
The students also posted photos online.
"Those who participated in this tasteless and hurtful act have been issued significant disciplinary actions," the district said in a statement.
Advertisement - story continues below
In a letter to parents on May 5, the district notified them of the incident, as NBC News reported.
"Any student, including those who are found to have taken part in sharing the post online will also be subject to disciplinary action," the letter stated.
Are you surprised these incidents continue to occur?
It continues, "The actions that were displayed do not reflect the values and culture of Colerain High School or the Northwest Local School District."
Sooooo this is how Colerain High School in Cincinnati gets down huh. Honestly not surprised anymore. pic.twitter.com/t34kDYojGI

— Big Boi 5033 (@BiggBoi5033) May 17, 2022
Colerain High School is roughly 30 percent Black and approximately 50 percent White, according to U.S. News and World Report.
Advertisement - story continues below
The school has a total enrollment of 1,730.
The Washington Post pointed out the incident is the latest in a series of racist incidents occurring in schools nationwide.
CBS 12 News reported earlier this week a Florida school district is investigating a photograph circulating on social media showing students spelling out a racial slur.
"What we saw wasn't racism. It's beyond racism. It was terrorism," one parent told school officials.
Advertisement - story continues below
One mother explained, "The R at the end is blood. How do I know these children were not sitting at home thinking about coming to school doing a mass murder on each child?"
Another mother said, according to CBS 12 News, "Our schools clearly have not property established how wrong this behavior is to children who are certainly old enough to comprehend the issue at hand."
Truth and Accuracy
We are committed to truth and accuracy in all of our journalism. Read our editorial standards.
Comment Down Below
Conversation