News
Popular Indie Folk Singer Reveals Guillain-Barre Syndrome Diagnosis
Popular indie folk singer Sufjan Stevens revealed that he was in the process of learning how to re-walk again after being diagnosed with an autoimmune disease, Guillain-Barre Syndrome (GBS).
Stevens, 48, shared in a post on his Tumblr website why he had been unable to promote his upcoming album "Javelin," which is set to be released on Oct. 6. The singer revealed that last month he woke up one day and suddenly realized he could not walk and had "no mobility" along with "no feeling."
"Last month I woke up one morning and couldn't walk," Stevens wrote in his post. "My hands, arms and legs were numb and tingling and I had no strength, no feeling, no mobility."
Advertisement - story continues below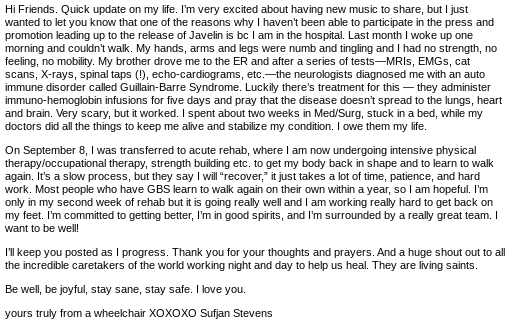 Stevens continued to share that after being brought to the hospital by his brother, he went through a "series of tests" consisting of MRIs, EMGs, cat scans, X-rays and spinal taps.
After all of the testing, neurologists diagnosed Stevens with GBS. GBS is described as being a "rare condition" where someone's "immune system attacks the peripheral nerves" more common in adults and men, according to the World Health Organization's (WHO) website.
While severe cases of GBS are considered rare, they can result in "near-total paralysis and problems breathing," according to the WHO website.
Advertisement - story continues below
"Luckily there's treatment for this — they administer immuno-hemoglobin infusions for five days and pray that the disease doesn't spread to the lungs, heart and brain," Stevens wrote. "Very scary, but it worked. I spent about two weeks in Med/Surg, stuck in a bed, while my doctors did all the things to keep me alive and stabilize my condition. I owe them my life."
Stevens added that on Sept. 8 he had been moved to "acute rehab" where he is currently going through physical and occupational therapy, along with strength building.
Do you listen to Sufjan Stevens?
"It's a slow process," Stevens said, sharing that the doctors say he will recover. "It just takes a lot of time, patience, and hard work. Most people who have GBS learn to walk again on their own within a year, so I am hopeful."
Truth and Accuracy
We are committed to truth and accuracy in all of our journalism. Read our editorial standards.
Comment Down Below
Conversation