Sen. Susan Collins Takes Swipe at Schumer After Winning Reelection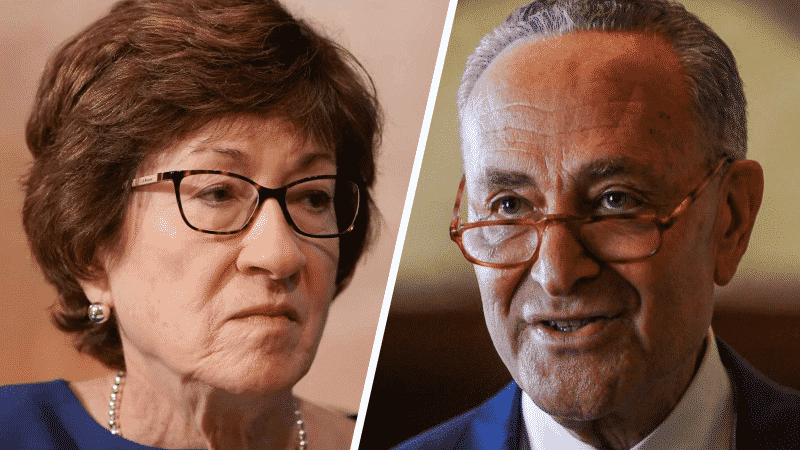 Sen. Susan Collins (R-Maine) defied Democrats when she came out with a victory in the 2020 congressional elections.
Polls ahead of the election showed Collins trailing behind Democratic challenger Sara Gideon. Collins was considered one of the most vulnerable incumbents, and the non-partisan Cook Political Report moved her race to "toss-up." However, she came out with a victory, winning reelection by 9 points.
Speaking with Politico this week in an interview published Friday, Collins said, "I was very gratified that the margin was so big. That people were able to look at the individual."
She added, pointing to Senate Minority Leader Chuck Schumer (D-N.Y.), "They were smart enough to reject the outright lies that Chuck Schumer and his PAC have hoisted."
The Maine senator also noted that eight Democratic senators called her to offer their congratulations on her win, the first call being from Sen. Joe Manchin (D-W.Va.). Manchin asked her, "What can we do next? How can we work together?"
Collins told Politico, "These were by and large my friends. It wasn't Chuck Schumer calling me, let's put it that way."
"Some of them told me frankly that they'd been instructed by Chuck to not co-sponsor my bills, not work with me to advance legislation. Now, some of them followed that instruction from him but some did not."
While the Maine senator has barely spoken to President Donald Trump, she has congratulated President-elect Joe Biden on his "apparent victory," as IJR reported.
She also said in the statement on Nov. 9, "I understand that the President and others have questions about the results in certain states. There is a process in place to challenge those results, and, consistent with that process, the President should be afforded every opportunity to do so."
Additionally, Collins told Politico that Trump's lawsuits in multiple states "should not delay the president-elect, the apparent winner, from having access to the traditional office space, supplies and federal employees to help him make the transition. So that on Jan. 20, assuming this holds, he can be up and running."
Collins said her and Biden "have a long-standing relationship that goes back many years and we worked on issues together in the Senate as well as when he was vice president," adding, "It doesn't mean that if he appoints someone who is way out of the mainstream, that I wouldn't oppose them."