Susan Rice on Stalled Presidential Transition: 'This Is the Most Irresponsible Leadership'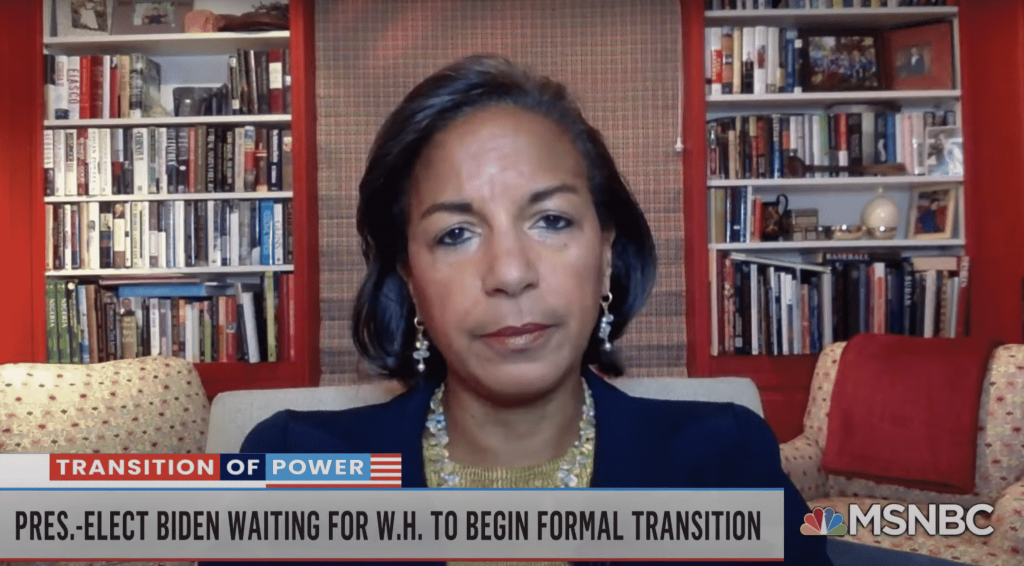 Former national security adviser Susan Rice is criticizing the Trump administration for making it difficult for President-elect Joe Biden to transition into office.
MSNBC's Andrea Mitchell noted the United States is in the thick of the COVID-19 pandemic as well as threats to national security.
She mentioned Secretary of State Mike Pompeo's efforts to "cement" what she says is an anti-Palestinian policy.
Mitchell also brought up Trump's decision to fire top U.S. cybersecurity official Chris Krebs for calling the election the "most honest" and "safest" in American history.
"This is the most irresponsible leadership during a transition that I think any of us have seen in our lifetimes if not in the history of the republic," Rice said.
She added, "Donald Trump has lost the election, it's clear. His legal challenges are failing and he's running out of rope."
Check out her comments below:
Rice argued this is "not the moment to be playing games with national security and with the health and the safety of Americans" amid the COVID-19 pandemic.
Trump received harsh criticism for firing Krebs from House Speaker Nancy Pelosi (D-Calif.), as IJR previously reported.
"Instead of rewarding this patriotic service, the President has fired Director Krebs for speaking truth to power and rejecting Trump's constant campaign of election falsehoods," Pelosi said.
She continued, "The President's insistence on distracting and dividing the country by denying his defeat in the election undermines our democracy."
Trump announced his decision to fire Krebs on Twitter Tuesday.
"The recent statement by Chris Krebs on the security of the 2020 Election was highly inaccurate, in that there were massive improprieties and fraud," Trump tweeted. "Therefore, effective immediately, Chris Krebs has been terminated as Director of the Cybersecurity and Infrastructure Security Agency."
Congressional leaders expressed their support for Krebs following Trump's announcement, as IJR previously reported.