News
'Afghanistan Is Finally Free': Taliban Declare Victory Following US Troop Withdrawal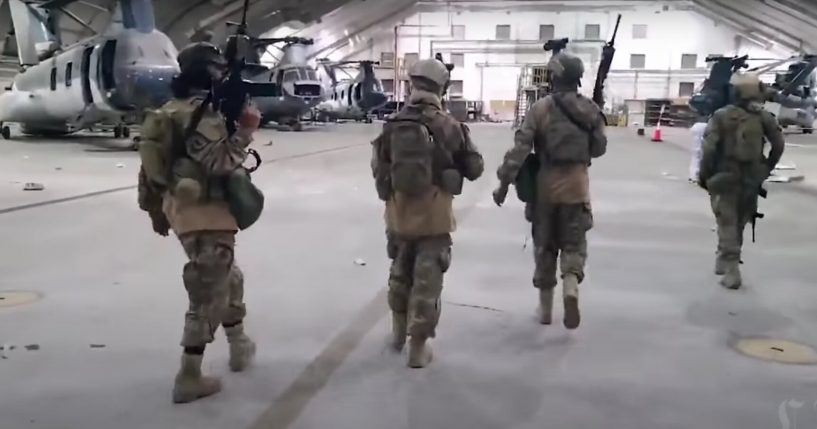 The Taliban declared "Afghanistan is finally free" after U.S. troops completed their withdrawal.
According to The Associated Press, the Taliban marched into Kabul's international airport just hours after U.S. troops left. The group posed for photos dressed in camouflage uniforms.
"The military and civilian side (of the airport) are with us and in control. Hopefully, we will be announcing our Cabinet. Everything is peaceful. Everything is safe," Hekmatullah Wasiq, a top Taliban official, told the outlet.
Advertisement - story continues below
Wasiq also said people "have to be patient," adding, "Slowly we will get everything back to normal. It will take time."
Addressing the group at the airport, Taliban spokesman Zabihullah Mujahid told them, "I hope you be very cautious in dealing with the nation."
He added, "Our nation has suffered war and invasion and the people do not have more tolerance."
Advertisement - story continues below
On Monday, the Pentagon announced the last U.S. troops left Afghanistan. General Kenneth F. McKenzie, the head of the U.S. Central Command, said at a briefing, "Every single U.S. service member is out of Afghanistan, I can say that with absolute certainty."
The last American soldier to leave Afghanistan: Maj. Gen. Chris Donahue, commanding general of the @82ndABNDiv, @18airbornecorps boards an @usairforce C-17 on August 30th, 2021, ending the U.S. mission in Kabul. pic.twitter.com/j5fPx4iv6a

— Department of Defense 🇺🇸 (@DeptofDefense) August 30, 2021
President Joe Biden released a statement Monday, reporting "that it was the unanimous recommendation of the Joint Chiefs and of all of our commanders on the ground to end our airlift mission as planned."
He continued, "Their view was that ending our military mission was the best way to protect the lives of our troops, and secure the prospects of civilian departures for those who want to leave Afghanistan in the weeks and months ahead."
Secretary of State Antony Blinken said "under 200, likely closer to 100" Americans are left in Afghanistan.
Advertisement - story continues below
He added, "Now, U.S. military flights have ended and our troops have departed Afghanistan. A new chapter of America's engagement with Afghanistan has begun. It's one in which we will lead with our diplomacy."
Truth and Accuracy
We are committed to truth and accuracy in all of our journalism. Read our editorial standards.
Comment Down Below
Conversation