News
Ted Cruz Accuses Biden of Wanting to 'Give Crack Pipes to Minorities to Destroy' Their Communities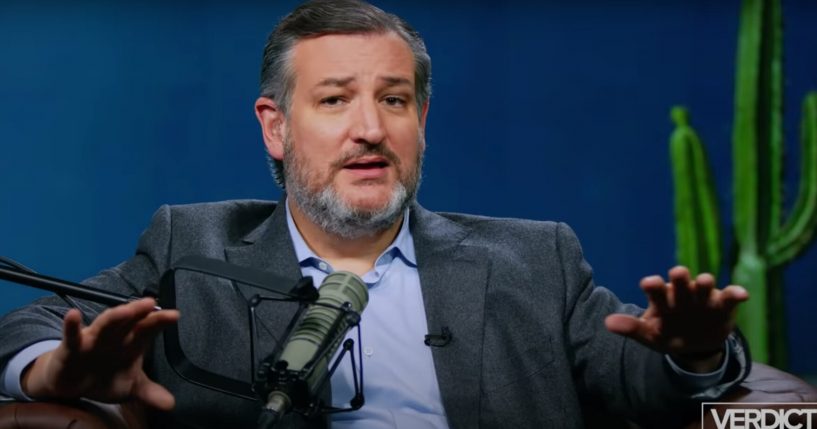 Sen. Ted Cruz (R-Texas) says if President Joe Biden wants to help minority communities he needs to "get the kids off crack."
During an episode of "Verdict with Ted Cruz," Michael Knowles read a question from a listener.
"What is Ted Cruz's view regarding the legality of illicit drugs?" Knowles asked.
Advertisement - story continues below
He went on to explain, "It ties into the news because Joe Biden might not be able to give us very much in this economy, but he is promising to give out free crack pipes, so it's a topic at the top of people's minds."
Cruz responded, "It's a great question, but let me start, Michael, how is that not a headline for the Babylon Bee? It literally is the case that the Biden administration is giving out free crack pipes because this will be good for America if everyone's smoking crack. You know, talk about a great crime policy, as many people on crack as possible. These are your Democrats."
Knowles then noted Biden said that "crack pipes were important for racial equity, which seems extremely offensive to me to say that, but."
Cruz went on to argue, "If you were to come up with a conspiracy theory, this would usually be attributed to Republicans. If you were to say 'racist' and the the media conspiracy theorists always claim them to be Republicans. The CIA so this is another one. 'The CIA wants to give crack pipes to minorities to destroy minority communities.'"
Advertisement - story continues below
He continued, "That sounds like a conspiracy theory, except Biden is saying that's what he wants to do. It's like, Holy crap, you want to fight for minority communities, get the kids off crack. Don't give them crack pipes. All right."
Watch the video below:
Knowles added, "That's a good rule of thumb. Get get the kids off crack. Yes, reasonable people can disagree on lots of questions here, but I think we can all agree. Don't give the kids crack pipes."
During a White House press briefing earlier this month, a reporter asked White House Press Secretary Jen Psaki if crack pipes were ever included in the safe smoking kits that are funded by the administration, as IJR reported.
Advertisement - story continues below
"They were never part of the kit. It was inaccurate reporting and we wanted to put out information to make that clear," Psaki said.
She was then asked what is included in the safe smoking kits.
"A safe smoking kit may contain alcohol swabs, lip balm, other materials to promote hygiene and reduce the transmission of diseases like HIV and Hepatitis," Psaki said.
Truth and Accuracy
We are committed to truth and accuracy in all of our journalism. Read our editorial standards.
Comment Down Below
Conversation