News
Texas Democrats' DC Trip To Block Voting Bill Expected To Cost Around $1.5 Million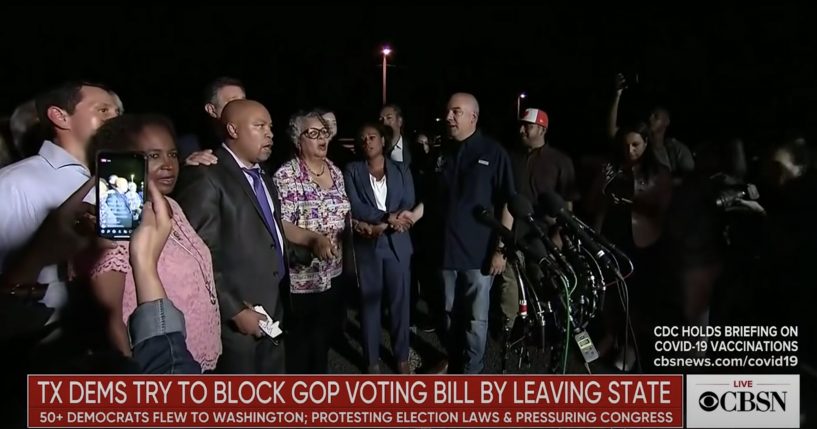 Fleeing the state to block the passage of a voting bill is expected to cost Texas Democrats around $1.5 million.
State Rep. Armando Walle said during an interview with NBC News it will cost as much as $1.5 million to keep Democrats out of Texas through Aug. 7, when the session is set to end.
According to Walle, the pair of private charter jets taken by most legislators to Washington cost more than $100,000. Housing, food, and other costs for transportation will make up most of the other expenses.
Advertisement - story continues below
Before taking off, the charter jets were paid for by wire transfer from the state House Democratic Caucus, as NBC News reports.
Legislators also said members and staffers have paid for costs on their personal credit cards.
In case you missed it:
Advertisement - story continues below
The outlet noted, citing caucus and staff members, no taxpayer dollars are being used to pay for the trip. The House Democratic Caucus and other caucuses, including the Mexican American Legislative Caucus, have used existing funds to cover the costs of the trip so far, as NBC News points out.
One legislator said a House member's personal American Express card was used to book a large block of hotel rooms at a mid-range D.C. hotel. They indicated members expect they will be reimbursed.
NBC News explained Republicans argue the trip is costing taxpayers as a monthlong special legislative session is estimated to cost more than $1 million. As long as Democrats remain out of town, no bills are expected to reach Texas Gov. Greg Abbott's (R) desk.
Walle told the outlet the Democratic caucus was still counting donations and commitments. He estimated the total to be $250,000 so far.
Abbott previously told Fox News once the lawmakers "step back into the state of Texas they will be arrested and brought back to the Texas Capitol and we will be conducting business."
Advertisement - story continues below
On July 12, at least 51 of the 67 Democratic representatives left Texas to deny Republicans the quorum needed to pass new voting restrictions.
Truth and Accuracy
We are committed to truth and accuracy in all of our journalism. Read our editorial standards.
Comment Down Below
Conversation