News
'They Both Have So Much Wise Counsel:' Texas Dems Meet With Clintons, Stacey Abrams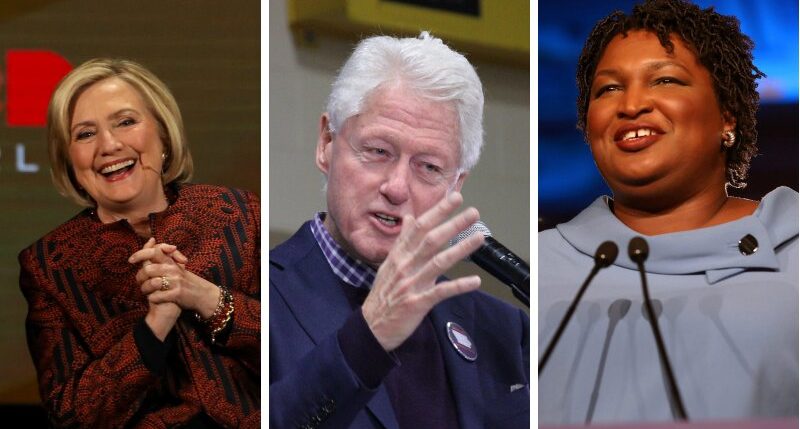 Former President Bill Clinton (D), former Secretary of State Hillary Clinton, and former Georgia Democratic gubernatorial candidate Stacey Abrams are meeting with the Texas Democrats who fled the state to block a voting bill.
According to NBC News, Abrams met with members of the Texas House Democratic Caucus at 10 a.m and the group met with the Clintons at 11 a.m. Thursday virtually.
The Democrats said earlier they would ask the Clintons to provide their political capital to their effort. They are also asking for advice from the three about how to move forward on voting legislation.
Advertisement - story continues below
"They both have so much wise counsel that they can provide for us. We're hoping they can use their influence, as well," state Rep. Ron Reynolds said about the Clintons. "We're going to ask them, if they haven't already, if they would personally call Sen. Sinema and Sen. Manchin."
Hillary Clinton praised the Democrats in a statement to NBC News.
"The fight to protect our voting rights is the fight to protect our democracy, so we stand with them and applaud their ongoing efforts to ensure our citizens have access to the ballot box," she said.
The former president also weighed in, saying, "What Texas Democrats are standing up against goes far beyond their own state — it is part of a much wider effort by Republicans nationwide to make it harder to cast a vote and have it counted, because they know they can't win when the electorate matches America in its full diversity."
Advertisement - story continues below
He continued, "Hillary and I are inspired by the Texas Democrats and hope they will keep making what our dear friend John Lewis called 'good trouble.'"
More than 50 members of the Texas House relocated to Washington, D.C., this month.
Truth and Accuracy
We are committed to truth and accuracy in all of our journalism. Read our editorial standards.
Comment Down Below
Conversation