Commentary
Third Time's Not the Charm: Poll Shows Beto O'Rourke Floundering in Latest High Profile Race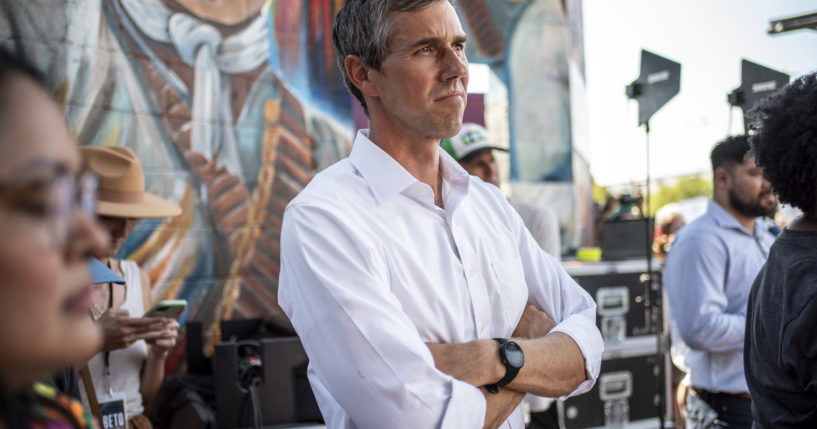 Some talentless politicians get lucky and fail upward and obtain higher office.
Beto O'Rourke (D) is not one of them.
After failing miserably in his bid for president and his 2018 effort to unseat Sen. Ted Cruz (R-Texas), O'Rourke took a little break from running for office in 2020.
Advertisement - story continues below
Now that he recovered from his two losses, he decided that being rejected by voters twice was not enough for him and is trying to unseat Texas Gov. Greg Abbott (R-Texas).
While the now near perennial candidate may have thought the third time is the charm, polls are not bearing that out for him.
An Emerson College Polling/The Hill survey released on Monday found Abbott leading O'Rourke 50% to 42%
🚨 TEXAS POLL By Emerson College

GOVERNOR
(R) Greg Abbott 50% (+8)
(D) Beto O'Rourke 42%

PRESIDENT
(R) Donald Trump 49% (+9)
(D) Joe Biden 40%

Biden Job Approval: 37/56 (-19)

⚪ Sept 20-22
⚪ 1,000 likely voters
⚪ MoE ±3.02%
⚪ Sample: R37/D32/I31https://t.co/sdEQIsYIFR pic.twitter.com/4iZqQuTkit

— InteractivePolls (@IAPolls2022) September 27, 2022
Advertisement - story continues below
Broken down by demographics, 60% of white voters said they plan to vote for the incumbent governor, while 35% chose O'Rourke.
Meanwhile, 46% of Hispanic voters said they plan to back Abbott, while 42% said the same of the Democratic challenger.
Do you think O'Rourke will pull off a win?
However, O'Rourke holds a massive advantage among Black voters, with 78% saying they will vote for him and 12% telling pollsters they plan to vote for the Republican governor.
In yet another bad sign for the Democrat, 55% of voters have a favorable view of Abbott while 44% say the same of O'Rourke.
Voters in Texas also do not have a good view of President Joe Biden, with 56% disapproving of his job performance, and just 37% approving of it.
Advertisement - story continues below
However, the poll has one really, truly awful statistic for Democrats. Forty percent of respondents said their top issue is the economy, and just 16% said abortion access is the top issue.
The survey was conducted Sept. 20-22 and has a margin of error of plus or minus 3.02 percentage points.
Democrats started to feel optimistic that the Supreme Court's decision to overturn Roe v. Wade would energize their voters and help blunt their midterm losses. They felt even more optimistic after Kansas voters rejected a ballot measure that would have opened the door for abortion restrictions, and after a special election in New York where abortion was a major issue.
When it seemed like inflation was poised to ease, gas prices were decreasing, and the economy looked like it was poised to defy predictions about a recession, it made sense abortion would be a driving issue. When things are going well, people can focus on social issues.
Advertisement - story continues below
However, in September, the pocketbook issues burst onto the scene again as the August inflation report exceeded expectations, gas prices started to rise again, the Dow Jones Industrial Average entered a bear market, and concerns about a recession roared back.
Right now, it appears things are going in the wrong direction for Democrats — though there still probably is time for something to change the direction of the midterms.
But hey, if O'Rourke comes up short in November and polls keep going the way they are for President Joe Biden, there's always 2024.
Truth and Accuracy
We are committed to truth and accuracy in all of our journalism. Read our editorial standards.
Comment Down Below
Conversation