News
Tim Scott Pushes Back Against the Argument That Abortion Is 'the Way to Help Single Black Mothers'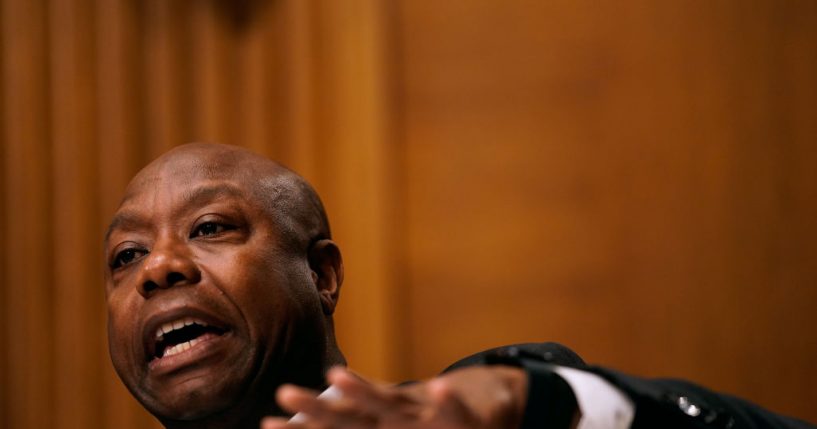 Sen. Tim Scott (R-S.C.) pushed back against an abortion argument made by Treasury Secretary Janet L. Yellen.
Scott penned an op-ed for The Washington Post titled, "Abortion is not the way to help single Black mothers."
Opening the op-ed, Scott shared a story of how his mother "worked 16 hours a day three days a week, and eight hours a day two days a week, just to keep food on the table and the lights on."
Advertisement - story continues below
He then mentioned a comment made by Yellen during a Senate Banking Committee hearing last week.
"I believe that eliminating the right of women to make decisions about when and whether to have children would have very damaging effects on the economy," Yellen said.
She suggested abortion affects "particularly low-income and often Black" mothers and how a lack of abortion access "deprives them of the ability often to continue their education to later participate in the workforce."
Scott explained, "To me, this was stunning. I thought I had misheard her. Was Yellen making the case for how abortion is good for America's labor force? But when questioned, Yellen doubled down on what I believe is a callous, inhumane reason for ending innocent life."
Advertisement - story continues below
He added, "In that moment, I felt compelled to speak up and speak out on behalf of people like my mom. There are voices today who would tell you that our lives were hopeless. That a life like the one we had as a family was not a life worth living, and that the United States would be better off if people like us didn't exist at all."
Opinion | Tim Scott: Abortion is not the way to help single Black mothers – The Washington Post https://t.co/32qiipgXQL

— MarjorieDannenfelser (@marjoriesba) May 17, 2022
The senator called Yellen's claim "simply false and echoes the egregious arguments made in the early 20th century by Margaret Sanger in support of the eugenics movement."
Concluding his op-ed, Scott wrote, "If we want to have hard conversations about what will improve outcomes for our nation's poorest communities, I welcome those conversations because I believe that America is the solution — not the problem."
He added, "When it comes to our economic challenges, abortion is not the answer. And I will debate anyone, anywhere, at any time about solutions that actually work."
Advertisement - story continues below
Scott's op-ed comes just weeks after Politico published a leaked draft opinion showing the Supreme Court would overturn Roe v. Wade.
Over the weekend, the Women's March called for a "summer of rage" following the leak, as IJR reported.
"Yesterday, we took to the streets and showed the strength of our movement," the organization tweeted.
It continued, "Tomorrow, we keep fighting. This will be a Summer of Rage across America."
Truth and Accuracy
We are committed to truth and accuracy in all of our journalism. Read our editorial standards.
Comment Down Below
Conversation