News
Top Democrat Suggests Lawmakers Should Sit In 'Isolation Boxes' if They Refuse to Follow Mask Mandate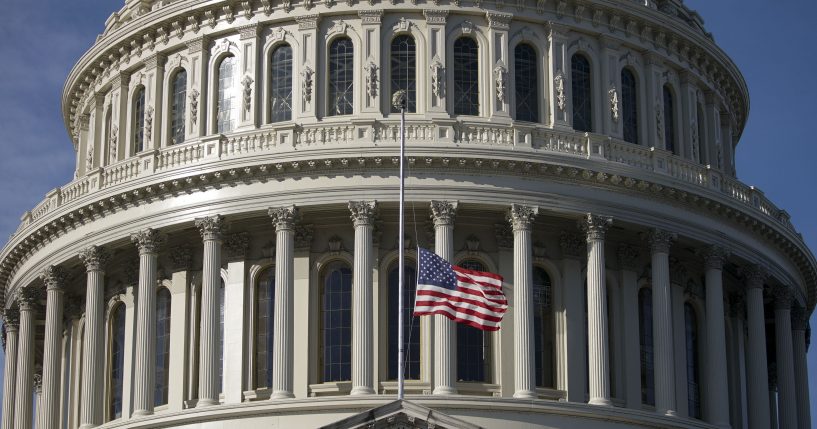 A top Democrat is proposing a new solution to prevent lawmakers from ignoring the mask mandate.
Assistant Speaker of the House Katherine M. Clark (D-Mass.) penned a letter to the House sergeant-at-arms, suggesting lawmakers who ignore the mask mandate should be required to sit in "isolation boxes" in the House Gallery.
Clark argued fines given to those who ignore the mandate "have proven insufficient to prevent some Members from repeatedly violating this commonsense rule."
Advertisement - story continues below
She continued, "This callous disregard for House rules endangers the health of Members of Congress and the professional staff whose physical presence is required to ensure continuity of government."
Clark also mentioned the emergence of the Omicron variant.
"That is why, in addition to imposing fines, I am requesting that your office begin requiring Members who fail to comply with this rule to attend the House floor from isolation boxes in the House Gallery," Clark wrote.
As #Omicron rages, Members breaking House rules by refusing to #maskup are threatening our dedicated staff and Members. Fines are not enough. I'm calling for unmasked Members to attend the floor and vote from the isolation boxes in the House Gallery. Read more⬇️ pic.twitter.com/UTDAJDlqiE

— Katherine Clark (@RepKClark) January 11, 2022
Advertisement - story continues below
Lawmakers are fined $500 for the first time they refuse to wear a mask on the House floor and $2,500 for subsequent violations.
Rep. Majorie Taylor Greene (R-Ga.) and Rep. Andrew Clyde (R-Ga.) have repeatedly ignored the mask mandate.
Should lawmakers be required to sit in "isolation boxes"?
According to The New York Times, they have racked up more than $100,000 combined in fines.
"The American people have had enough and are standing up against these outrageous and unconstitutional policies," Greene said in a statement.
House Speaker Nancy Pelosi (D-Calif.) received criticism over the return of the mandate in July of 2021.
Advertisement - story continues below
House Minority Leader Kevin McCarthy (R-Calif.) said at a news conference, "That is not a speaker for America. That's a speaker only concerned about her own wealth, her own direction and our own control."
He added, "This is the people's house, not Pelosi's house."
Truth and Accuracy
We are committed to truth and accuracy in all of our journalism. Read our editorial standards.
Comment Down Below
Conversation