'I Certainly Feel Differently': Trump Addresses His Relationship With China's President Xi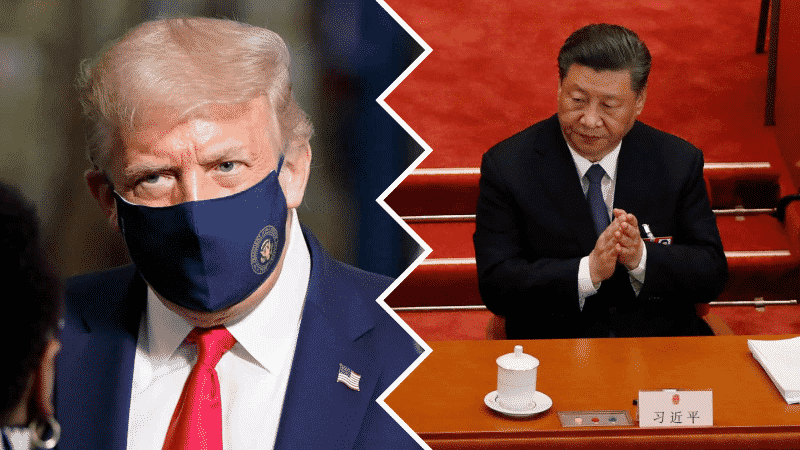 President Donald Trump once had glowing comments about Chinese President Xi Jinping.
But as COVID-19 has spread around, his view of the Chinese leader has changed.
On Tuesday, during an interview with Outkick's founder, Clay Travis, Trump was asked about his relationship with Xi.
He said, "I used to have a very good relationship with him."
Trump continued to note the new U.S China trade deal signed earlier this year, "It was a great deal for us. China's ripped off our country for 30 years. Nobody's ever done anything like what they've done."
"But I had a great relationship with President Xi," Trump said, adding, "But I didn't like what took place. This is not trade. This is a thousand times the trade deal, what happened with all of the death and all of the world — the world had to shut down. It's a disgrace what happened."
Trump continued to note that his view of Xi has changed drastically over the past few months as COVID-19 spread around the world, "I certainly feel differently … I had a very, very good relationship. I haven't spoken to him in a long time."
And he was clear about what caused him to view Xi differently, "But once the plague came in from China — I call it the plague — once the plague came in from China the relationship changed. No question about it. It would be hard to believe that it wouldn't change."
Listen to the president's remarks (starting at 8:30):
In the early days of the outbreak of the virus, Trump praised Xi and China's handling of COVID-19. He said it was "terrific working with President Xi," who he called "a man who truly loves his country."
He also repeatedly said Xi was "working hard" to contain the virus between January and February.
But since the virus has wreaked havoc around the globe, and hit the U.S. especially hard, Trump's tone regarding Xi and China changed.
In an interview on Fox Business in May, Trump addressed the outbreak and placed blame on China, saying it allowed COVID-19 to spread around the world.
Trump said, "They should have never let this happen."
"So I make a great trade deal, and now I say this doesn't feel the same to me. The ink was barely dry, and the plague came over. And it doesn't feel the same to me," he added.
Finally, he addressed his relationship with Xi, "But I just — right now, I don't want to speak to him."