News
Former Trump Aide Tells Jan. 6 Committee Giuliani Was 'Definitely Intoxicated' on Election Night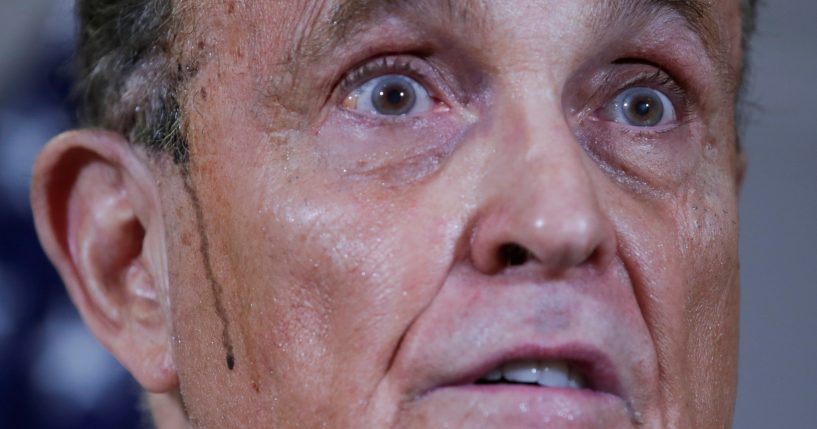 Jason Miller, who worked as an adviser to former President Donald Trump, says former New York City Mayor Rudy Giuliani was "definitely intoxicated" on the night of the 2020 election.
During a hearing of the House committee investigating the Jan. 6 riot at the U.S. Capitol, the panel played a part of Miller's deposition.
One committee investigator asked, "Was there anyone in that conversation who in your observation had had too much to drink?"
Advertisement - story continues below
"Mayor Giuliani," Miller responded.
The investigator asked, "What was your observation about his potential intoxication during that discussion about what the president should say when he addressed the nation on election night?"
"The mayor was definitely intoxicated, but I do not know his level of intoxication when he spoke with the president, for example," the former aide said.
Giuliani told the committee's investigators in his deposition that he spoke to Trump "several times that night."
Advertisement - story continues below
Watch the video below:
During 1/6 hearing, Former Trump Campaign Senior Advisor Jason Miller says Rudy Giuliani was "definitely intoxicated" while speaking to President Trump on election night.

Miller says Giuliani was saying "They're stealing it from us." pic.twitter.com/1CTlPHjAL5

— The Recount (@therecount) June 13, 2022
Do you think Trump should have declared victory?
Miller told the committee, "There were suggestions by, I believe it was Mayor Giuliani, to go and declare victory and say that we won it outright."
He also said, "To the best of my memory, I was saying that we should not go declare victory until we had a better sense of the numbers."
Trump's campaign manager Bill Stepien told the committee in his deposition that election night was "far too early to be making any calls like that."
Advertisement - story continues below
"Ballots were still being counted. Ballots were still going to be counted for days," he added.
However, according to Miller, Giuliani was "saying 'we won it. They're stealing it from us. Where'd all the votes come from? We need to go say that we won.' And essentially that anyone who didn't agree with that position was being weak."
Trump ultimately decided to declare that he won the election around 2:30 a.m. on the Wednesday after the election.
"This is a fraud on the American public. This is an embarrassment to our country," he said at the White House. "We'll be going to the U.S. Supreme Court, we want all voting to stop."
Advertisement - story continues below
Trump added, "A very sad group of people is trying to disenfranchise [people who voted for me] and we won't stand for this."
Despite his claims of widespread fraud, several recounts and legal challenges failed to produce evidence to substantiate them or alter the results of the election.
Truth and Accuracy
We are committed to truth and accuracy in all of our journalism. Read our editorial standards.
Comment Down Below
Conversation