News
Trump Trying To Oust McConnell From Leadership Role, Looking for Challenger: Report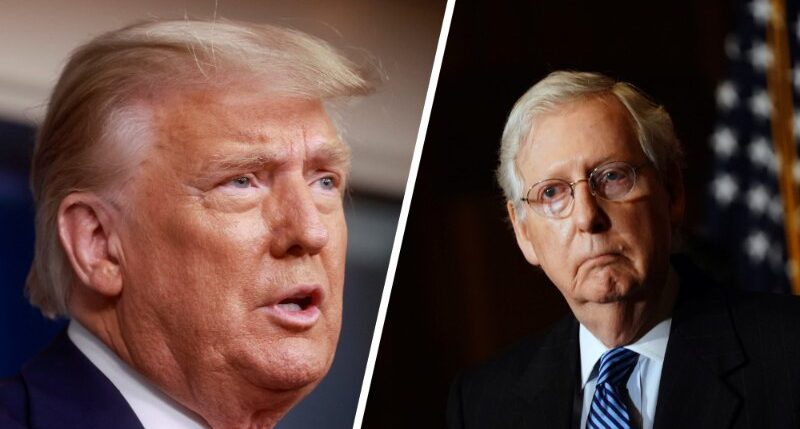 Former President Donald Trump is searching for Republicans who are willing to challenge Senate Minority Leader Mitch McConnell (R-Ky.) when his term is up in 2023, according to a new report.
The Wall Street Journal reported Sunday that Trump has "spoken recently with senators and allies about trying to depose Mr. McConnell and whether any Republicans are interested in mounting a challenge, according to people familiar with the conversations."
It continued, "There is little appetite among Senate Republicans for such a plan, lawmakers and aides said, but the discussions risk driving a wedge deeper between the most influential figure in the Republican Party and its highest-ranking member in elected office."
Advertisement - story continues below
The former president recently lashed out at McConnell, calling him a "weak" leader after the Senate moved ahead with a bipartisan infrastructure package, as IJR previously reported.
"Under the weak leadership of Mitch McConnell, Senate Republicans continue to lose. He lost Arizona, he lost Georgia, he ignored Election Fraud and he doesn't fight," Trump said in a statement.
He added, "Now he's giving Democrats everything they want and getting nothing in return. No deal is better than a bad deal. Fight for America, not for special interests and Radical Democrats. RINOs are ruining America, right alongside Communist Democrats."
In June, Trump blasted the Senate minority leader over reports that he called on then-Attorney General William Barr to speak out about his claims about widespread fraud in the 2020 election, as IJR previously reported.
Advertisement - story continues below
"Had Mitch McConnell fought for the Presidency like he should have, there would right now be Presidential Vetoes on all of the phased Legislation that he has proven to be incapable of stopping," the former president said in a statement.
He continued, "Not to mention, he lost two Senatorial seats in Georgia, making the Republicans the Minority in the Senate. He never fought for the White House and blew it for the Country. Too bad I backed him in Kentucky, he would have been primaried and lost!"
Truth and Accuracy
We are committed to truth and accuracy in all of our journalism. Read our editorial standards.
Conversation