News
Trump Attacks Colin Powell One Day After He Died from COVID Complications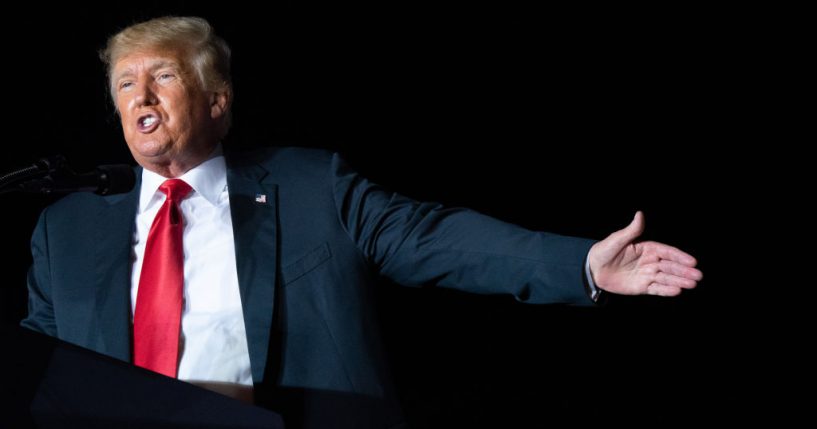 Former President Donald Trump is attacking Colin Powell one day after the former secretary of State's death from complications related to COVID-19.
In a statement on Tuesday morning, Trump said, "Wonderful to see Colin Powell, who made big mistakes on Iraq and famously, so-called weapons of mass destruction, be treated in death so beautifully by the Fake News Media."
"Hope that happens to me someday. He was a classic RINO, if even that, always being the first to attack other Republicans. He made plenty of mistakes, but anyway, may he rest in peace!" he added.
Advertisement - story continues below
Read the statement below:
Trump criticizes Colin Powell: pic.twitter.com/nYldug0nto

— Josh Wingrove (@josh_wingrove) October 19, 2021
The statement comes a day after Powell's family announced he had died from compications related to COVID-19.
"General Colin L. Powell, former U.S. Secretary of State and Chairman of the Joint Chiefs of Staff, passed away this morning due to complications from Covid 19. He was fully vaccinated," a statement said, adding, "We want to thank the medical staff at Walter Reed National Medical Center for their caring treatment. We have lost a remarkable and loving husband, father, grandfather and a great American."
Advertisement - story continues below
As CNN noted, "A source familiar with the matter said Powell had multiple myeloma, a cancer of plasma cells that suppresses the body's immune response. Even if fully vaccinated against Covid-19, those who are immunocompromised are at greater risk from the virus."
Powell served as secretary of state under former President George W. Bush. However, he endorsed former President Obama in 2008.
In 2020, Powell blasted Trump and endorsed then-candidate Joe Biden for president. In an interview on CNN in June 2020, he called Trump a liar and a danger to the country.
And after the Jan. 6 riot at the U.S. Capitol, Powell wished that Trump would "just do what [former President Richard Nixon] did and just step down."
"Somebody ought to go up there and tell him it's over, plane's waiting for you, you're out. That way he would not only step down, he would, in addition, sort of cut the guts out from underneath this group of people who he has working for him," he added.
Truth and Accuracy
We are committed to truth and accuracy in all of our journalism. Read our editorial standards.
Comment Down Below
Conversation