'Boom': Trump Boasts of COVID-19 Recovery, Sparking 'Superman' Chants at Rally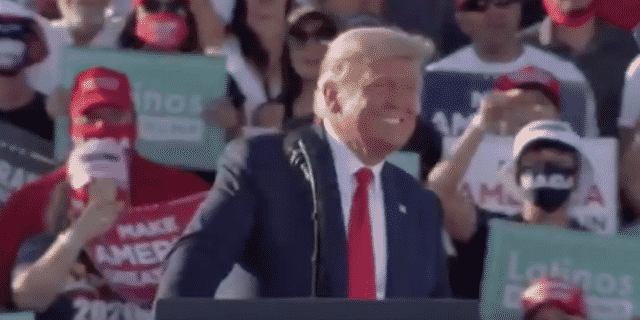 Those who attended President Donald Trump's campaign rally in Arizona could hear chants of "Superman!"
After suggesting that "people are pandemic'd-out," referring to the coronavirus pandemic, Trump told those who attended his reelection campaign rally on Monday, "I'm here. And now I'm immune. I can jump into this audience and kiss every man and woman. I'm immune."
The president noted that he was treated with an antibody cocktail for COVID-19.
He then said, "I woke up and I felt good. I said, 'Get me out of here.' Boom. Superman," before pretending to tear his shirt.
The crowd chanted, "Superman! Superman!"
Watch the video below:
Trump rally crowd chants "Superman! Superman! Superman! Superman!" for him. pic.twitter.com/w428ctHrOF

— The Hill (@thehill) October 19, 2020
Trump hit the trail following his recovery from the coronavirus, and he will be traveling to Pennsylvania on Tuesday where he will continue to campaign. This comes as there are 14 days until the Nov. 3 election.
The second presidential debate between Trump and Democratic presidential nominee Joe Biden was canceled after it was made virtual which drew pushback from the Trump campaign.
The two will go head-to-head on Thursday night for the last presidential debate ahead of the 2020 presidential election. The final debate will feature a "mute" button for parts to allow each candidate time to speak. This follows after the two repeatedly clashed during the first debate, and Trump interrupted roughly 145 times in the 90 minutes of the debate, according to Fox News' Chris Wallace.