News
Trump Claims FBI 'Stole My Three Passports' During Mar-a-Lago Raid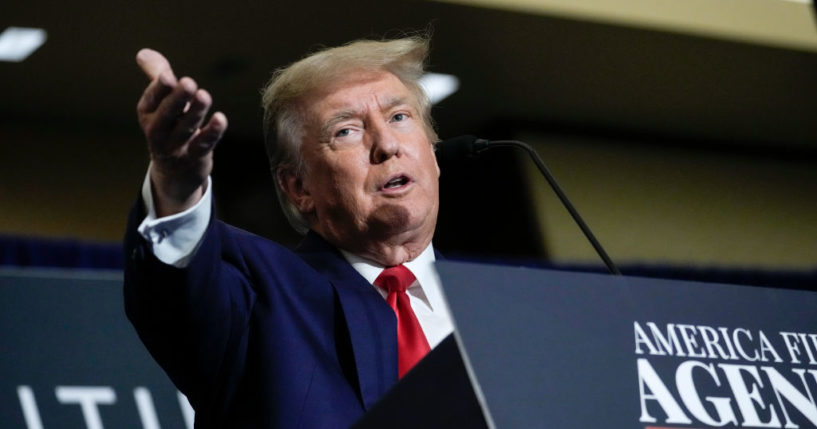 Former President Donald Trump is claiming that the FBI "stole" his passports when its agents raided his Mar-a-Lago resort.
In a post on his Truth Social, Trump wrote, "Wow! In the raid by the FBI of Mar-a-Lago, they stole my three Passports (one expired), along with everything else."
"This is an assault on a political opponent at a level never seen before in our country. Third World!" he added.
Advertisement - story continues below
Trump claims on Truth Social his passports were taken in the MAL search: pic.twitter.com/Z9Lpd3p9Jt

— Meridith McGraw (@meridithmcgraw) August 15, 2022
U.S. citizens are allowed to have up to two valid passports at a time.
His comment comes a week after FBI agents executed a search warrant at Mar-a-Lago and reportedly recovered 11 sets of classified documents.
The Wall Street Journal reported, "The Federal Bureau of Investigation agents took around 20 boxes of items, binders of photos, a handwritten note and the executive grant of clemency for Mr. Trump's ally Roger Stone, a list of items removed from the property shows. Also included in the list was information about the 'President of France.'"
Advertisement - story continues below
Agents were directed to seize "all physical documents and records constituting evidence, contraband, fruits of crime, or other items illegally possessed."
Trump claimed on Truth Social last week that all the documents were declassified and that the FBI "didn't need to 'seize' anything."
"They could have had it anytime they wanted without playing politics and breaking into Mar-a-Lago. It was in secured storage, with an additional lock put on as per their request," he added.
While the raid of Mar-a-Lago has set off a political whirlwind, the FBI and Department of Homeland Security (DHS) have reported an increase in the number of threats made against federal law enforcement.
A bulletin from the FBI and DHS warned of a threat to "place a so-called Dirty Bomb in front of FBI headquarters."
Advertisement - story continues below
Trump reportedly sent a message to Attorney General Merrick Garland last week that read, "The country is on fire."
"What can I do to reduce the heat?" he asked.
And during an interview with Fox News, the former president said, "The country is in a very dangerous position. There is tremendous anger, like I've never seen before, over all of the scams, and this new one—years of scams and witch hunts, and now this."
"If there is anything we can do to help, I, and my people, would certainly be willing to do that," he added.
Advertisement - story continues below
While Trump has spoken out about the "dangerous position" he believes the country is in, he also apparently believes the raid could boost Republicans in November.
"Republicans could win many additional seats, both in the House [and] Senate, because of the strong backlash over the raid at Mat-a-Lago [sic]. Polls are showing that some lost Republican territory over the last number of weeks has been more than made up with the unannounced Break In by the FBI, which should never have happened," he wrote on Truth Social on Monday.
Truth and Accuracy
We are committed to truth and accuracy in all of our journalism. Read our editorial standards.
Comment Down Below
Conversation