News
Trump Company Reportedly in 'Advanced Discussions' to Sell Hotel in DC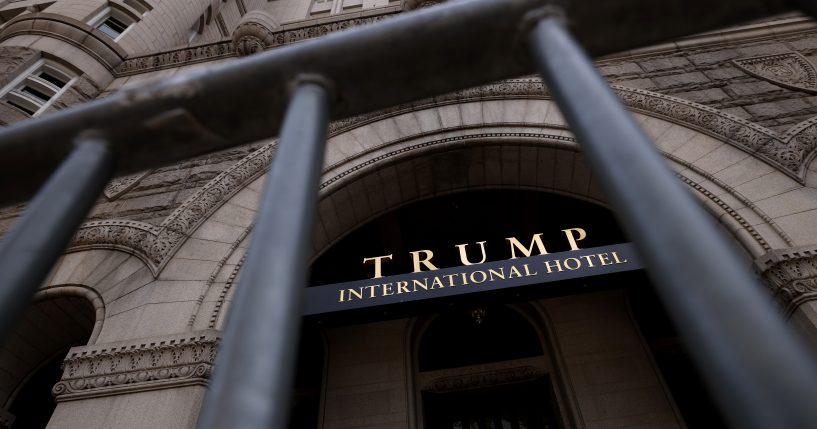 Former President Donald Trump's company is close to reaching a deal on selling the rights to its hotel in Washington D.C., according to a new report.
The Wall Street Journal reported the deal is worth more than $370 million, citing people familiar with the matter. CGI Merchant Group, an investment firm based in Miami, is involved in discussions to acquire the lease on the Trump International Hotel.
The investment firm is also in talks with hotel companies, including Hilton Worldwide Holdings Inc., about removing the former president's name.
Advertisement - story continues below
According to one person familiar with the matter, the deal on the lease could reach an amount closer to $400 million, representing roughly twice the amount spent by the Trump Organization to renovate it.
As the Journal notes, "The hotel sales talks have been heating up as Democratic-controlled House committees have been investigating and holding hearings on potential conflicts of interest and emoluments issues surrounding Mr. Trump."
A report from the House committee released on Friday found the hotel lost more than $70 million between 2016 and 2020. Trump's financial disclosures while he was in the White House said the hotel raked in about $150 million in revenue over the past four years, as the Journal reports.
Trump's most recent disclosure covered 2020 and the first few weeks of this year. The disclosure found the revenue dropped to $15 million.
Advertisement - story continues below
Another person familiar with the issue also told the outlet CGI Merchant Group was included among roughly 12 firms to show interest in the hotel.
The hotel stands in the former Old Post Office, just a short distance away from the White House. It is owned by the federal government. As the Journal points out, the Trumps defeated some of the biggest names in the hotel business to acquire the lease to the building in 2012.
Truth and Accuracy
We are committed to truth and accuracy in all of our journalism. Read our editorial standards.
Conversation