Trump Condemns Schumer for His Remark About Kavanaugh, Gorsuch: 'It Was a Disgrace'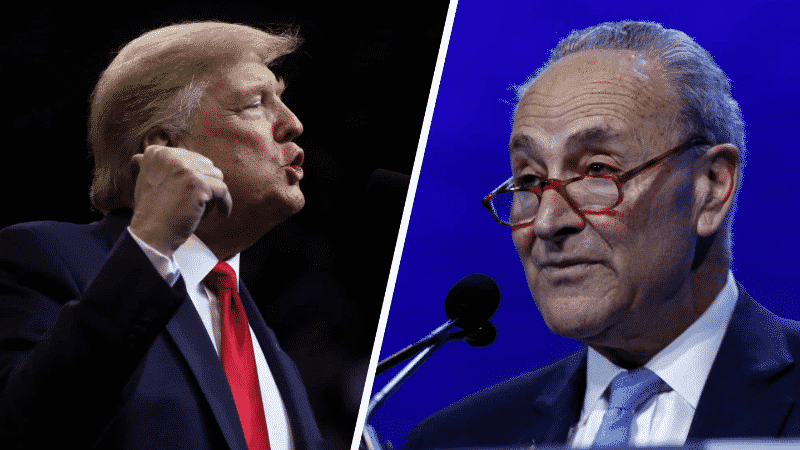 President Donald Trump is condemning Senate Minority Leader Chuck Schumer's (D-N.Y.) recent remarks toward Supreme Court Justices Neil Gorsuch and Brett Kavanaugh.
On Wednesday, Trump conducted a phone interview with Fox News' Sean Hannity where he discussed Schumer's comments.
The president believes Schumer should be subjected to some form of punishment because he didn't have congressional immunity at the time the remarks were made.
As previously reported on IJR, Schumer was scrutinized for his seemingly threatening comments made toward Gorsuch and Kavanaugh.
At an abortion rally, Schumer blasted the two Supreme Court justices saying they would "pay the price" depending on how they rule in a major abortion case.
"I want to tell you, Gorsuch. I want to tell you, Kavanaugh. You have released the whirlwind, and you will pay the price," Schumer said.
Did Senate Democrat leader Schumer just threaten two conservative justices? Where is the media?

"I want to tell you Justice Kavanaugh and Justice Gorsuch: You have unleashed a whirlwind, and you will pay the price"pic.twitter.com/MellytNNp5

— Mark Meadows (@RepMarkMeadows) March 4, 2020
Describing Schumer's actions as a "disgrace," Trump didn't hold back when voicing his disapproval of Schumer's remarks.
Trump continued, "As far as Schumer is concerned, it was a terrible thing he said. I was amazed by it and if that were a Republican you would see really bad things happening." He added, "It is very unequal justice, and it is a disgrace that he was able to say something like that."
"Schumer did it outside on the streets in front of a rough crowd," Trump noted. "It was a disgrace to the Supreme Court and to the U.S. Senate."
Check out the clip of Trump's phone interview here.
Trump also took to Twitter to reiterate his stance. Trump made it clear that he believes Schumer should suffer consequences for his remarks.
There can be few things worse in a civilized, law abiding nation, than a United States Senator openly, and for all to see and hear, threatening the Supreme Court or its Justices. This is what Chuck Schumer just did. He must pay a severe price for this!

— Donald J. Trump (@realDonaldTrump) March 5, 2020
Trump tweeted, "There can be few things worse in a civilized, law-abiding nation, than a United States Senator openly, and for all to see and hear, threatening the Supreme Court or its Justices. This is what Chuck Schumer just did. He must pay a severe price for this!"
Published in IJR Red