News
Trump Criticizes Former Press Secretary Again – Draws Backlash From Conservatives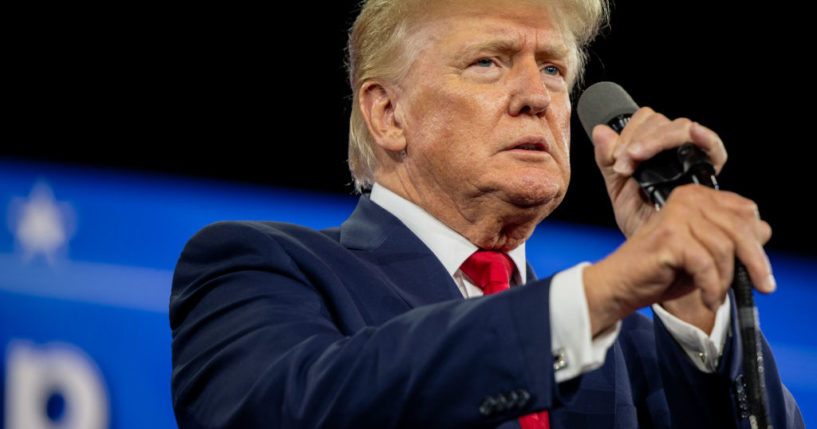 Former President Donald Trump is taking aim at one of his press secretaries from his time in office.
In a post on Truth Social, Trump took aim at former White House press secretary Kayleigh McEnany as he wrote, "Kayleigh 'Milktoast'McEnany just gave out the wrong poll numbers on FoxNews."
"I am 34 points up on DeSanctimonious, not 25 up. While 25 is great, it's not 34. She knew the number was corrected upwards by the group that did the poll," he continued.
Advertisement - story continues below
Finally, Trump said, "The RINOS [and] Globalists can have her. FoxNews should only use REAL Stars!!!"
Conservatives took to Twitter to share their displeasure with Trump criticizing McEnany.
What is trump doing? @kayleighmcenany was such a badass and helped him so much… not sure his thinking. He could have made this post a lot less harsh?

What does milk toast even mean? pic.twitter.com/Zj9GFXLld1

— Gentry Gevers (@GentryGevers) May 31, 2023
There is not a single person Trump won't turn on… for all his comments about loyalty, he doesn't respect it and doesn't have it. pic.twitter.com/9gKvqe6BQb

— Ryan James Girdusky (@RyanGirdusky) May 31, 2023
Advertisement - story continues below
Trump has an interesting concept of "loyalty." You're expected to never criticize him but he can lie about you if he feels like it. If you hit back, you're disloyal.

— Ian Miles Cheong (@stillgray) May 31, 2023
When Kayleigh McEnany was Press Secretary under Trump, MAGA loved posting videos of destroying the regime propagandists. Now she's "milk toast." Christina Pushaw went from BASED to traitor. This is garbage. Those of you going along with it have no honor.

— Cernovich (@Cernovich) May 31, 2023
Kayleigh was one of the only voices defending Trump on CNN when he ran in 16. I often disagreed with her, but she was prepared, relentless & unafraid of being heavily outnumbered. She then served Trump as chief spokesperson when he was president. She also likes DeSantis. Result: pic.twitter.com/ZwToHGOvpm

— Guy Benson (@guypbenson) May 31, 2023
Some pointed out he spelled milquetoast wrong.
Trump's use of "milktoast" reminds me of when he used "Prince of Whales" on Twitter. It was deleted, but the rest of the day there were little whales and crowns all over. 🐳👑🐳👑 pic.twitter.com/arEEyjDGWc

— Kimberly Ross (@SouthernKeeks) May 31, 2023
Advertisement - story continues below
This is not the first time Trump has taken a jab at McEnany.
Earlier this month, he shared a comment from McEnany about an interview he did with former Fox News host Tucker Carlson.
"Strong foreign policy interview from [President Donald Trump] on Tucker Carlson," she wrote, adding, "Trump excels when he talks about policy, emphasizes his experience, and reminds Americans how safe our country was on his watch."
🚨President Trump makes new statement on @kayleighmcenany pic.twitter.com/0wWklSYiF5

— The Calvin Coolidge Project (@TheCalvinCooli1) April 30, 2023
Advertisement - story continues below
Trump wrote, "I guess Kayleigh is no longer speaking so favorably about DeSanctimonious now that his Polls are shot!" 
Truth and Accuracy
We are committed to truth and accuracy in all of our journalism. Read our editorial standards.
Comment Down Below
Conversation