News
Trump Files Lawsuit to Keep Documents From Jan. 6 Committee: 'Illegal Fishing Expedition'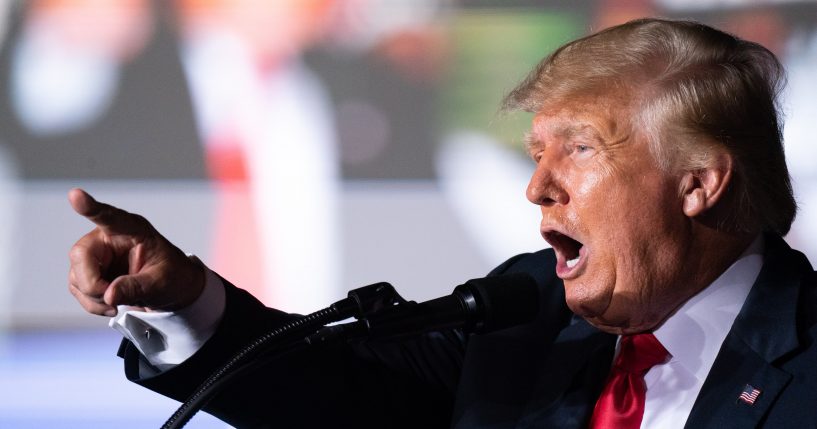 Former President Donald Trump is suing to block the National Archives from handing over records to the House committee investigating the January 6 riot at the U.S. Capitol.
The lawsuit argues the committee "has decided to harass President Trump and senior members of his administration (among others) by sending an illegal, unfounded, and overbroad records request to the Archives of the United States."
It continues, "The Committee's request amounts to nothing less than a vexatious, illegal fishing expedition openly endorsed by Biden and designed to unconstitutionally investigate President Trump and his administration."
Advertisement - story continues below
The lawsuit suggested "our laws do not permit such an impulsive, egregious action against a former president and his close advisors."
It notes the committee has asked for "documents and communications relating in any way to remarks made by Donald Trump or any other persons on January 6, including Donald Trump's and other speakers' public remarks at the rally on the morning of January 6, and Donald Trump's Twitter messages throughout the day."
Trump's lawyer, Jesse R. Binnall, goes on to request "that the Court invalidate the Committee's requests and enjoin the Archivist from turning over the records in question."
He added, "At a bare minimum, the Court should enjoin the Archivist from producing any potentially privileged records until President Trump is able to conduct a full privilege review of all of the requested materials."
Advertisement - story continues below
Committee Chair Bennie G. Thompson (D-Miss.) and Vice Chair Liz Cheney (R-Wyo.) responded to the lawsuit in a statement.
"The former President's clear objective is to stop the Select Committee from getting to the facts about January 6th and his lawsuit is nothing more than an attempt to delay and obstruct our probe. Precedent and law are on our side," they said.
The lawmakers added, "The Select Committee's authority to seek these records is clear."
They vowed to "fight the former President's attempt to obstruct our investigation while we continue to push ahead successfully with our probe on a number of other fronts."
Earlier this month, the White House blocked Trump's attempt to withhold documents from Congress related to the riot.
Advertisement - story continues below
The committee issued a sweeping records request in August after having its first hearing in July.
Truth and Accuracy
We are committed to truth and accuracy in all of our journalism. Read our editorial standards.
Comment Down Below
Conversation