Trump Campaign Pens Scathing Letter to Twitter for 'Manipulated Media' Label on Video of Biden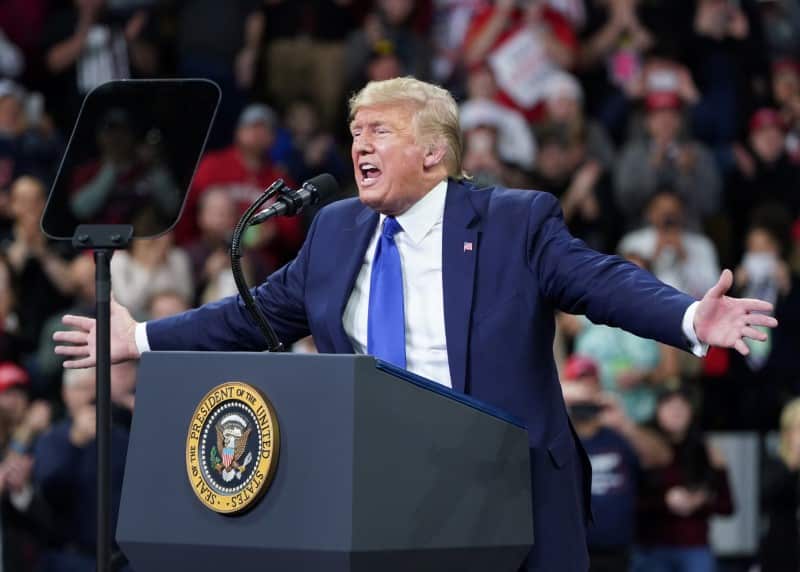 Trump's campaign is offering a rebuke to Twitter after the social media platform cast its first "manipulated media" label onto a post that the president retweeted.
"If Twitter is not seeking to protect Joe Biden, we urge it to correct its apparent oversight and apply its standards equally across the board," Trump campaign chief operating officer Michael Glassner wrote in a letter obtained exclusively by Fox News.
Twitter applied its first label for a "manipulated media" on an edited video on Sunday that White House Director of Social Media Dan Scavino posted on the platform.
The video appears to show former Vice President Joe Biden saying, "We cannot win this re-election, excuse me, we can only re-elect Donald Trump." The video, however, cuts short the rest of the former vice president's remarks, as IJR previously reported.
President Donald Trump also retweeted the video, writing along with it, "I agree with Joe!"
I agree with Joe! https://t.co/h84mD7jVPW

— Donald J. Trump (@realDonaldTrump) March 8, 2020
Glassner wrote in the letter on Monday:
"Understandably, the Biden campaign has a strategic interest in intimidating social media companies into suppressing true and embarrassing video evidence of Joe Biden's continued inability to communicate coherently—a sad truth that has been publicly noted by Democrats and media figures alike."
The Trump campaign continues in the letter — written to Twitter CEO Jack Dorsey, public policy director Carlos Monje, and general counsel Vijaya Gadde — urging the social media platform to apply the "manipulated media" label to a video tweeted out by Biden's campaign posted "less than a week ago."
The video Glassner suggests the video "manipulates audio and video of President Trump in order to mislead Americans and give a false impression," a post from March 3 by Biden's campaign.
See the post below:
We can't sit by and lose this country to Donald Trump. Today, we take it back — together.

Go vote: https://t.co/Hy8C4n0lUk pic.twitter.com/0YgyJFr9YR

— Joe Biden (Text Join to 30330) (@JoeBiden) March 3, 2020
"Of course, this is not the first time the Biden campaign has used editing tricks to manipulate video and feed misinformation to the American people," Glassner added in the letter. He concluded:
"If Twitter is not seeking to protect Joe Biden, we urge it to correct its apparent oversight and apply its standards equally across the board."
Additionally, Trump campaign rapid response director Andrew Clark told Fox News that Biden's campaign "is scared as hell that voters will see the flood of unedited and embarrassing verbal stumbles that will continue go viral."
He then suggested Twitter was "an enforcement arm of Joe Biden's campaign strategy," adding that "if they choose to police every video clip they must hold his own campaign to the same standard."
Trump's re-election campaign manager Brad Parscale also chimed in on Twitter, in response to the letter, "Joe Biden's campaign knows he is a TERRIBLE candidate so their best hope is to limit how many people see him. They want Twitter to protect him too."
Published in IJR Red