News
Trump Shares He Met With Rittenhouse at Mar-a-Lago, Calls Him a 'Good Young Guy'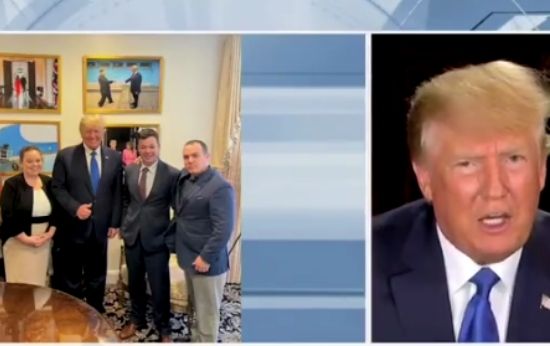 Former President Donald Trump met with Kyle Rittenhouse following Rittenhouse's not guilty verdict.
The two met at the Mar-a-Lago resort in Florida. Trump told Fox News' Sean Hannity on Tuesday night, "I got to know him a little bit. He called, wanted to know if he could come over and say hello because he was a fan, unlike the other guy."
Trump called Rittenhouse a "good young guy" and added, "He should never have been put through that. That was prosecutorial misconduct, and it's happening all over the United States right now with the Democrats."
Advertisement - story continues below
See Trump's remarks below:
🚨🚨🚨🚨🚨

President Trump said he met with Kyle Rittenhouse pic.twitter.com/fEvRgfPsLq

— Greg Price (@greg_price11) November 24, 2021
Kyle Rittenhouse and Donald Trump today: pic.twitter.com/3FvmzAyhon

— Henry Rodgers (@henryrodgersdc) November 24, 2021
Rittenhouse was acquitted on all charges in his murder trial on Friday, as IJR reported on. He was charged with five felonies. He killed two people and wounded another during unrest last summer in Kenosha, Wisconsin, after the police shooting of Jacob Blake.
Advertisement - story continues below
When testifying during the trial, Rittenhouse broke down and said, "I didn't do anything wrong. I defended myself."
During his recent interview with Fox News' Tucker Carlson, Rittenhouse was asked for his response to President Joe Biden previously labeling him a "white supremacist" in a 2020 campaign ad, as IJR also reported on.
He said, "Mr. President, if I could say one thing to you, I would urge you to go back and watch the trial, and understand the facts before you make a statement."
"It's actual malice; defaming my character for him to say something like that," Rittenhouse added.
White House Press Secretary Jen Psaki was asked again about Biden during Tuesday's press briefing. Fox News' Peter Doocy asked, "Would the president ever apologize to the acquitted Kenosha shooter Kyle Rittenhouse for suggesting online and on TV that he is a white supremacist?"
Advertisement - story continues below
She responded, "Well, let's be clear what we're talking about here. This is about a campaign video released last year that used President Trump's own words during a debate as he refused to condemn white supremacists and militia groups, and President Trump, as we know from history, and as many of you covered, didn't just refuse to condemn militia groups on the debate stage — he actively encouraged them throughout his presidency."
"So, you know, what we've seen are the tragic consequences of that when people think it's OK to take the law into their own hands, instead of allowing law enforcement to do its job, and the president believes in condemning hatred, division and violence. That's exactly what was done in that video," Psaki added.
Truth and Accuracy
We are committed to truth and accuracy in all of our journalism. Read our editorial standards.
Comment Down Below
Conversation