Trump Participates in Annual Turkey Pardon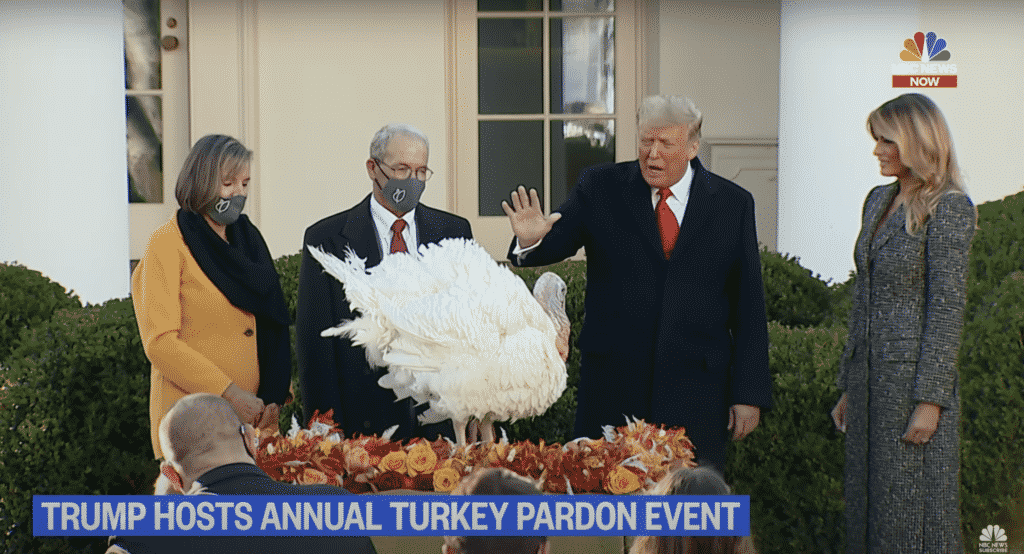 President Donald Trump is continuing the annual tradition of pardoning the National Thanksgiving Turkey.
As the coronavirus spreads throughout the country, upending traditional Thanksgiving plans and following a contentious presidential election, Trump participated in the traditionally lighthearted event.
The two turkeys, "Corn and "Cob," came from a farm in Iowa.
In brief remarks, Trump acknowledged the challenges facing the nation as Americans head into the holiday season, "This week, in a time that is very unusual but in so many ways very, very good … it's time to remember that we live in a great, great country."
"Every American can be united in thanksgiving to God, for the incredible gifts he has bestowed upon us. The blessings of family, community, and this exceptional, beautiful, and great country," he continued.
"During this Thanksgiving, we extend our eternal gratitude to the doctors, nurses, healthcare workers, and scientists who have waged the battle against the 'China virus.' And we give thanks for the vaccines and therapies that will soon end the pandemic."
Additionally, Trump extended his gratitude for America's service members and law enforcement officers.
He also joked, "Thanksgiving is a special day for turkeys, I guess, probably for the most part not a very good one if you think about it."
Watch the video below:
Before the event, the White House ran a poll on social media to determine which turkey should be "pardoned." Respondents chose "Corn."
Which turkey should President Trump pardon at this year's National Thanksgiving Turkey Pardoning Ceremony—Corn or Cob?

— The White House (@WhiteHouse) November 23, 2020
However, both birds will be given to Iowa State University for the rest of their lives.
The tradition of offering a pardon can be traced back to President Abraham Lincoln, although the modern tradition started under President George H.W. Bush.