News
Trump Asks if Rand Paul Will Apologize for Backing Losing Candidate in Ohio Primary Race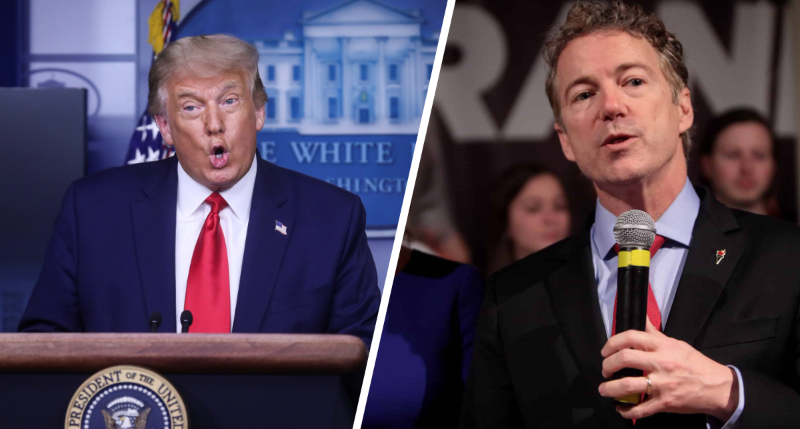 Former President Donald Trump wants to know if Sen. Rand Paul (R-Ky.) will apologize for not supporting the candidate he endorsed in the Republican primary race for Ohio's 15th Congressional District special election.
In a statement on Thursday, the president asked, "Do you think Rand Paul will apologize for spending nearly $1 Million on another candidate in Ohio's 15th District congressional race after I had already endorsed Mike Carey?"
"In any event, Mike went on to an unprecedented victory, more than doubling the second placed finisher and Rand's candidate came in a distant third out of eleven," he continued.
Advertisement - story continues below
Finally, Trump said, "Rand is a different kind of guy, but I like him a lot anyway, and I'm proud to have endorsed him when when he ran. Do you think he learned his lesson?"
Watch the video below:
Trump, who mocked Paul's looks while running for the 2016 Republican presidential nomination, endorsed Paul in his reelection bid earlier this year, calling him a "true champion."
Advertisement - story continues below
The former president endorsed coal lobbyist Mike Carey in the primary for Ohio's 15th Congressional district.
As NBC News reports, "Trump went all-out for Carey, giving him time on stage at a rally in June far outside the district in Wellington, Ohio. Corey Lewandowski, a Trump adviser, steered financial help through the Make America Great Again Action group he runs. The group poured in at least $350,000 in last-minute spending to boost Carey, including text messages and digital and TV advertising."
Is Trump the leader of the party?
Carey defeated 10 other candidates to win the party's nomination.
Meanwhile, Paul supported Ron Hood, who The Intercept reports had been "been entirely missing from the campaign trail and even paying himself a salary."
Carey's win comes after a separate Trump-backed candidate lost in a special election in Texas.
Advertisement - story continues below
After his primary win, Carey declared, "Republicans across Ohio's 15th Congressional District sent a clear message to the nation that President Donald J. Trump is, without a doubt, the leader of our party."
"I could not be more grateful for his support, and I am proud to deliver this win to advance his America First agenda," he added.
Truth and Accuracy
We are committed to truth and accuracy in all of our journalism. Read our editorial standards.
Conversation