Trump: Politicians Have to Be 'Civil' but If They're Not 'You Have to Fight Back'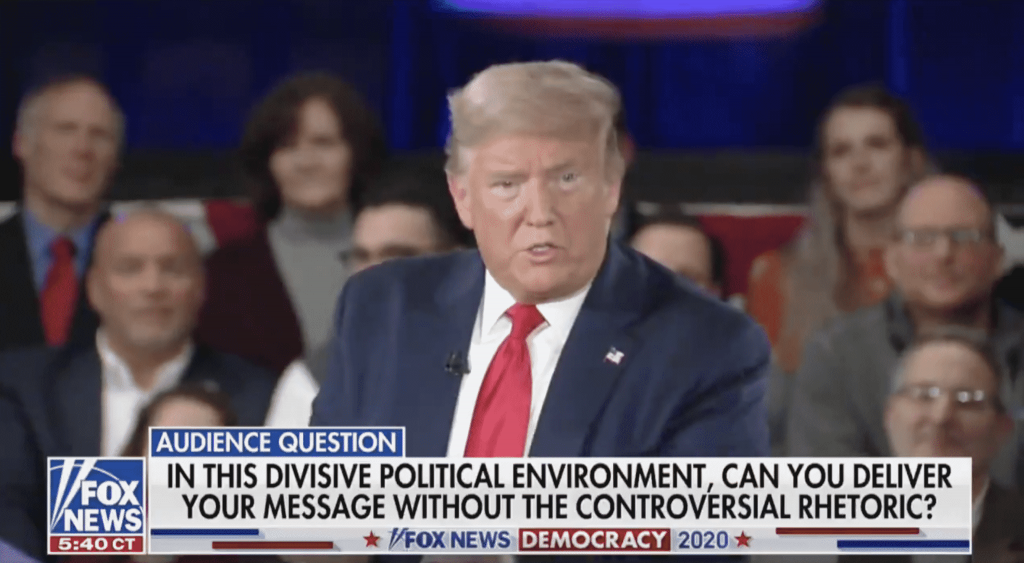 President Donald Trump said politicians must be civil, but if they're not, "you have to fight back."
During a Fox News town hall in Pennsylvania, the president was asked by a supporter — who said members of her family have stopped talking to her because of her support for Trump — how he would bring the country together.
"I gave an answer before —success. But, it's truly a little more than that cause we've had great success, and there's division there's no question about it. Politicians have to be able to be civil, if they're not you have to fight back."
Additionally, Trump said he sees many opportunities to work with Democratic members of Congress to solve the issues many Americans care about.
"There's so many things we can do," Trump said, adding, "We could do even so much more. We talked about a great question on the border, and the border question's true, but we should get rid of the loopholes. You can't do it without Democratic votes."
He also predicted that he would win the election. He suggested that after his re-election, the Democrats would "get along."
"I really believe we're going to win this next election. And when we do, the other side will say, 'Okay, that's it. Let's get along. I really believe that," Trump said.
Watch his answer below:
"I have family members who don't speak to me and recently was told 'if you support Trump, you are no longer part of my life.'

How are you going to bring us together?"@realDonaldTrump addresses the political divide in the country.#TrumpTownHall pic.twitter.com/otUGB7Mv7A

— Washington Examiner (@dcexaminer) March 6, 2020
Earlier in the town hall, Trump was asked by a different attendee about the political climate, and if there was a way for him to "deliver your message without the controversial rhetoric."
Trump responded, claiming that "the country is far more united than people think" and defended his attacks on political rivals.
"I think the way we unite is really through success. But, when they hit us, we have to hit back," Trump said, adding, "There's two ways of doing it, turning your cheek. But I wouldn't be sitting up there if I turned my cheek." 
President @realDonaldTrump asked about heated political rhetoric, including his, during town hall –– and he pulls no punches.

"I think the way we unite is really though success, but when they hit us, we have to hit back. … I wouldn't be sitting here if I turned my cheek." pic.twitter.com/0N3HJPjLCP

— The First (@TheFirstonTV) March 5, 2020
Additionally, Trump said he has to "fight back" to counter what he sees as unfair coverage by the news media. He added, "We have to fight back. If we don't fight back, you won't be a fan of mine very long."
Published in IJR Red