News
'Surprising New Scandals': Trump Press Secretary To Release Memoir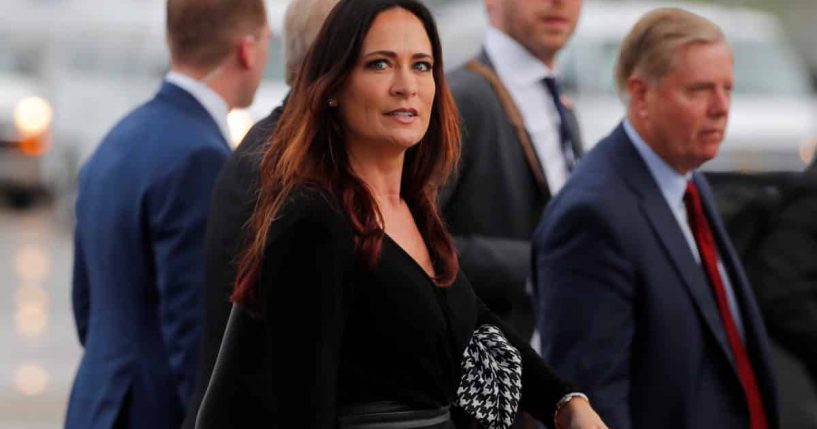 Former White House Press Secretary Stephanie Grisham is publishing a new memoir detailing her time with the Trump administration.
According to Axios, Grisham quietly penned the memoir titled, "I'll Take Your Questions Now: What I Saw in The Trump White House," and a source for publishing said she will reveal "surprising new scandals."
A former colleague of Grisham told the outlet, "When I heard this, all I could think about was Stephanie surrounded by a lake of gasoline, striking a match with a grin on her face."
Advertisement - story continues below
Another source said, "Grisham knows where all the bodies are buried because she buried a lot of them herself."
One colleague warned, "There isn't enough water on earth to contain the fire she could set to all of Trump world, including parts like the first lady's orbit, which not many people are in a position to illuminate."
They added, "It's hard to articulate how much anxiety this is going to cause."
Grisham left her position as press secretary in April of 2020, as IJR previously reported.
Advertisement - story continues below
The former press secretary later rejoined the East Wing as former First Lady Melania Trump's chief of staff and spokesperson. Melania Trump said in a statement, "I am excited to welcome Stephanie back to the team in this new role."
She continued, "She has been a mainstay and true leader in the Administration from even before day one, and I know she will excel as Chief of Staff."
In her own statement, Grisham said, "I continue to be honored to serve both the President and First Lady in the Administration. My replacements will be announced in the coming days and I will stay in the West Wing to help with a smooth transition for as long as needed."
In January, Grisham resigned following the January 6 riot at the U.S. Capitol, as IJR previously reported.
"It has been an honor to serve the country in the White House. I am very proud to have been a part of Mrs. Trump's mission to help children everywhere, and proud of the many accomplishments of this Administration," Grisham said in a statement.
Advertisement - story continues below
Her memoir will be published by Harper Collins on October 5.
Truth and Accuracy
We are committed to truth and accuracy in all of our journalism. Read our editorial standards.
Comment Down Below
Conversation