Trump Roasted for Not Wearing a Mask While Touring a Mask Factory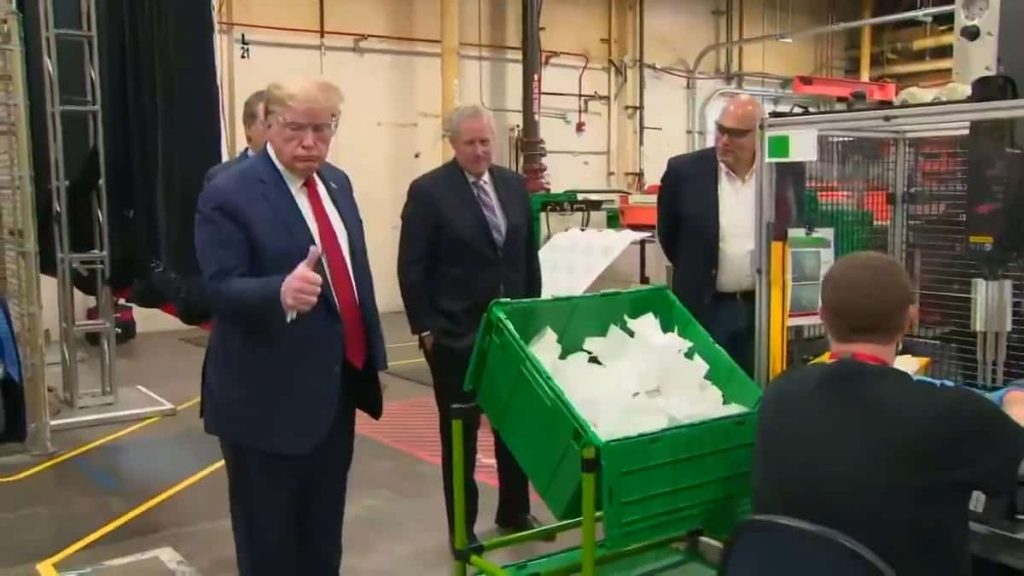 President Donald Trump left Washington, D.C. for the first time in more than a month to tour a facility used by Honeywell International to produce N-95 face masks.
Earlier in the day, Trump was asked if he would follow guidelines from the Centers for Disease Control and Prevention (CDC) to wear a mask in public. He said, "If it's a mask facility, I will, yeah."
But as he stepped off Air Force One in Arizona, reporters noted that Trump was not wearing a mask or gloves. 
As Trump & members of the Arizona GOP congressional delegation go to a Honeywell facility that makes N95 masks, nobody is wearing a mask https://t.co/okXSuBWh3g

— John Bresnahan (@BresPolitico) May 5, 2020
They are also, somewhat inappropriately, blasting 'Live and let die' over the factory sound system pic.twitter.com/A11qkUla2F

— Zach Purser Brown (@zachjourno) May 5, 2020
I didn't think someone could top Pence not wearing a mask to Mayo Clinic. Then Trump didn't wear a mask to a mask factory. https://t.co/hy0JIPQyL6

— Adam Parkhomenko (@AdamParkhomenko) May 5, 2020
WHY IS HE NOT WEARING A MASK IN THE FACTORY WEAR MASKS ARE MADE???????? @realDonaldTrump @VP @PressSec @honeywell https://t.co/4g4qfVzSSj

— Joely Fisher (@MsJoelyFisher) May 5, 2020
Trump's at Honeywell mask making factory…not wearing a mask but yeah sure wear goggles pic.twitter.com/kZbHeeZPVX

— Lucy Sherriff (@sherrifflucy) May 5, 2020
The question of whether Trump would wear a mask received more attention after Vice President Mike Pence drew criticism last week during a visit to the Mayo Clinic after he did not wear a mask.
In a statement, Pence defended his decision, "As Vice President of the United States I'm tested for the coronavirus on a regular basis, and everyone who is around me is tested for the coronavirus."
"And since I don't have the coronavirus, I thought it'd be a good opportunity for me to be here, to be able to speak to these researchers these incredible healthcare personnel and look them in the eye and say thank you," the statement continued.
But, Pence later said that he should have worn a mask during his trip, he said, "I didn't think it was necessary, but I should have worn a mask at the Mayo Clinic.
Trump has previously said that he did not think he would wear a mask, "I think wearing a face mask as I greet presidents, prime ministers, dictators, kings, queens, I don't know somehow I don't see it for myself."