Trump Seeks To Place Blame on Pelosi for Security Failures at Capitol Riot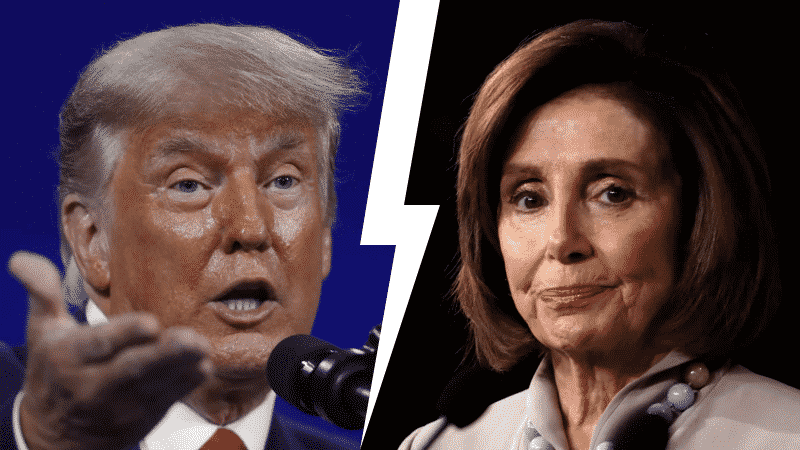 When it comes to the violence that broke out at the U.S. Capitol on Jan. 6 and those security failures, former President Donald Trump is blaming House Speaker Nancy Pelosi (D-Calif.).
Following his speech at the Conservative Political Action Conference (CPAC), Trump spoke with Fox News' Steve Hilton on Sunday where he was asked about his response to the Jan. 6 insurrection at the U.S. Capitol.
Trump called it "incorrect reporting" after Hilton noted reports that claimed Trump "liked" what he saw because he "felt it was your people" at the riot.
"I turned it on later on when I heard about it and did a lot of moves," the former president said.
He went on to talk about the "massive" rally that occurred in Washington, D.C., just before protesters stormed the U.S. Capitol.
"It was a lovefest. It was a beautiful thing," Trump said of the rally.
Trump then said he noted that the rally would be big ahead of time and suggested there should be 10,000 National Guard troops "ready."
"They took that number, from what I understand, they gave it to the people at the Capitol, which is controlled by Pelosi, and I heard they rejected it because they didn't think it would look good," he said. "So, you know, that was a big mistake."
Watch the video below:
Trump called in to Fox News after his CPAC speech and was asked by Steve Hilton about his response to the January 6 insurrection. He tried to shift blame to Pelosi before resorting to Black Lives Matter whataboutism. pic.twitter.com/5tjXcs12hF

— Aaron Rupar (@atrupar) March 1, 2021
Asked how he feels about the riot that occurred, Trump called it "terrible" and said, "I hate to see it."
Rep. Jim Jordan (R-Ohio) was recently slapped with "Four Pinocchios" by The Washington Post for his tweet on Feb. 15, claiming, "Capitol Police requested National Guard help prior to January 6th. That request was denied by Speaker Pelosi and her Sergeant at Arms."
The Post reports, "Without evidence, Jordan asserted that House Speaker Pelosi had denied a request for National Guard troops two days before the insurrection. Instead, public testimony shows she did not even hear about the request until two days later. Jordan also tried to pin the blame on the House sergeant-at-arms, but testimony shows the Senate sergeant-at-arms also was not keen about the idea."