News
Trump Sounds off on FBI, Media in Christmas Eve Message: 'Love to All'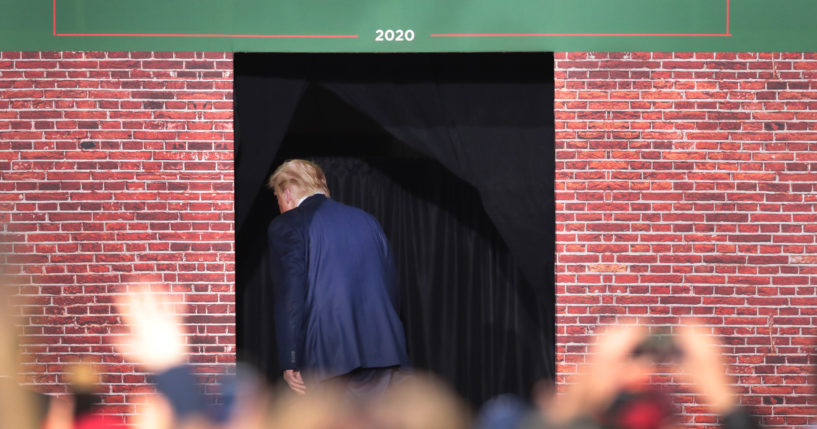 Former President Donald Trump posted a Christmas Eve message going after the FBI and mainstream media.
He took to his Truth Social platform to wish a Merry Christmas to everyone, including the "Radical Left Marxists that are trying to destroy our Country, the Federal Bureau of Investigation that is illegally coercing and paying Social and LameStream Media to push for a mentally disabled Democrat over the Brilliant, Clairvoyant, and USA LOVING Donald J. Trump, and, of course, The Department of Injustice, which appointed a Special 'Prosecutor' who, together with his wife and family, HATES 'Trump' more than any other person on earth."
Trump added, "LOVE TO ALL!"
Advertisement - story continues below
In a separate post on Christmas Day, the former president wrote, "On this very cold but beautiful Christmas Day, look at our Nation NOW on the Southern Border compared to only a short time ago during the Trump Administration."
He continued, "We had the most SECURE Border in our history, versus the 'horror show' that that is happening now, with record setting numbers of people, many of them hardened Criminals (including Killers, Human Traffickers and Drug Dealers), POURING INTO OUR COUNTRY at a rate the likes of which we have never seen before. The USA is dying from within!!!"
Donald Trump wishes us all a Merry Christmas pic.twitter.com/jiY8YvkFPK

— Wildest Truth Social Posts (@crazyhogposts) December 25, 2022
The posts came just days after Trump reacted to the report released by the January 6 committee, as IJR reported.
Advertisement - story continues below
"The highly partisan Unselect Committee Report purposely fails to mention the failure of Pelosi to heed my recommendation for troops to be used in D.C., show the 'Peacefully and Patrioticly' words I used, or study the reason for the protest, Election Fraud. WITCH HUNT!" Trump wrote on his Truth Social platform.
The committee stated in the executive summary of the 845-page report, "The central cause of Jan. 6 was one man, former President Donald Trump, whom many others followed."
Do you think "radical left marxists" are trying to destroy the country?
It continues, "None of the events of Jan. 6 would have happened without him."
Still, the report is not keeping Trump from running again in 2024.
The Washington Post noted Trump is the only "major candidate" who has made an official announcement about 2024.
Advertisement - story continues below
However, there are major Republican figures that are gearing up for potential campaigns, as the Post reported, citing a review of their activities and interviews with people familiar with planning.
Truth and Accuracy
We are committed to truth and accuracy in all of our journalism. Read our editorial standards.
Comment Down Below
Conversation