IJR Red
Trump Takes a Swing at Bloomberg After Debate Attacks From Fellow 2020 Dems: 'He Was Stumbling, Bumbling'
President Donald Trump wasted no time chiming in with his take on the Democratic candidates' sparring match in Las Vegas, Nevada. It's no secret former New York Mayor Michael Bloomberg had a tough night at the debate.
His Democratic rivals wasted no time flexing their political muscle debunking and discrediting the billionaire businessman.
Shortly after the debate concluded, Trump joined in with his jabs. The outspoken president took to Twitter with his response to Bloomberg's performance. As expected, Trump used a colorful choice of words and visuals to mock Bloomberg. He even referred to him as "Mini Mike."
Advertisement - story continues below
"Mini Mike Bloomberg's debate performance tonight was perhaps the worst in the history of debates, and there have been some really bad ones," Trump tweeted.
"He was stumbling, bumbling and grossly incompetent. If this doesn't knock him out of the race, nothing will. Not so easy to do what I did!" he added.
https://twitter.com/realDonaldTrump/status/1230376522663391232
However, Trump didn't stop there. He added another tweet to back his "Mini Mike" punchline. The tweet included a photo of a barely visible Bloomberg behind a tall podium.
Advertisement - story continues below
With the photo, Trump wrote, "This makes Mini Mike look good compared to his performance last night. Worst debate performance in history!"
https://twitter.com/realDonaldTrump/status/1230495013634637827
Prior to the tweets, Trump echoed similar sentiments at a rally in Phoenix, Ariz., on Wednesday night while the debate was taking place. Not only did he mock Bloomberg but he also took a jab at the Democratic party.
"Now they have a new member of the crew, mini Mike," Trump told his crowd of supporters. "We call him 'no boxes.'"
"I hear he's getting pounded tonight," Trump said adding, "I hear they're pounding him."
Advertisement - story continues below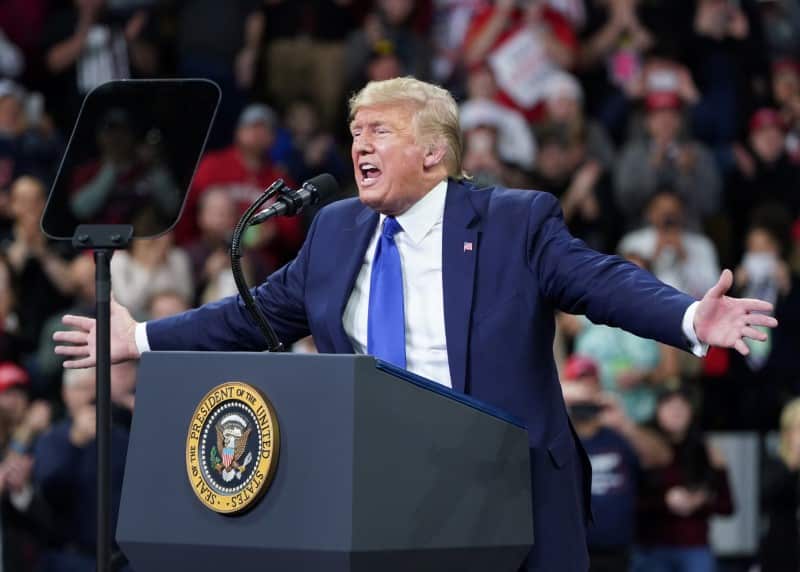 The latest news comes after the highly publicized Democratic debate which shed light on many of Bloomberg's weak points. In addition to Trump, Bloomberg faced scrutiny from Sens. Elizabeth Warren (D-Mass.) and Bernie Sanders (I-Vt.).
Warren came out SWINGING at Bloomberg pic.twitter.com/3D8bnvvm4m

— Pod Save America (@PodSaveAmerica) February 20, 2020
Warren cut straight to the chase opening the debate with her opinion on the idea of electing another billionaire to run the country.
Advertisement - story continues below
"Democrats take a huge risk if we just substitute one arrogant billionaire for another," she said.
Truth and Accuracy
We are committed to truth and accuracy in all of our journalism. Read our editorial standards.
Conversation