News
Trump Swipes Back at Biden: 'Destroying Our Nation With Insane Policies'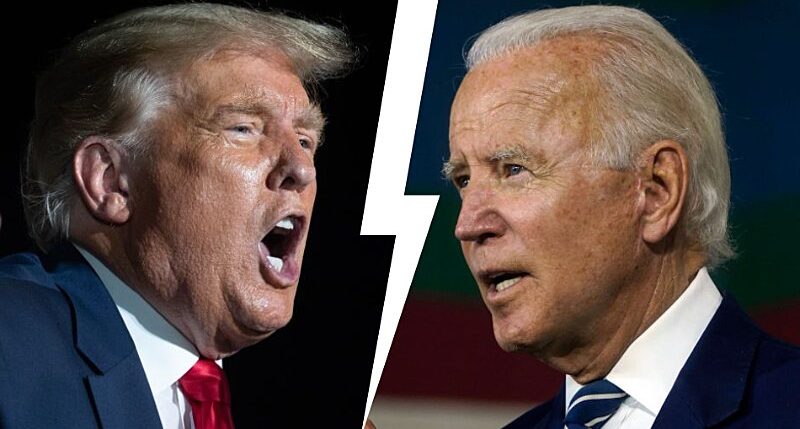 Former President Donald Trump is firing back after President Joe Biden pinned blame on him for the riot that occurred on January 6, 2020.
Following Biden's speech on the one-year anniversary since the deadly riot at the U.S. Capitol, Trump issued a statement firing back, "Biden, who is destroying our Nation with insane policies of open Borders, corrupt Elections, disastrous energy policies, unconstitutional mandates, and devastating school closures, used my name today to try to further divide America."
"This political theater is all just a distraction for the fact Biden has completely and totally failed," he added. "Our Country no longer has Borders, has totally and completely lost control of Covid (record numbers!), is no longer Energy Independent, Inflation is rampant, our Military is in chaos, and our exit, or surrender, from Afghanistan was perhaps the most embarrassing day in the long and distinguished history of the United States—and so much more."
Advertisement - story continues below
The former president continued to write in his statement:
"Why is it that the Unselect Committee of totally partisan political hacks, whose judgment has long ago been made, not discussing the rigged Presidential Election of 2020? It's because they don't have the answers or justifications for what happened. They got away with something, and it is leading to our Country's destruction. They want all conversation concerning the Election 'Canceled.' Just look at the numbers, they speak for themselves. They are not justifiable, so the complicit media just calls it the Big Lie, when in actuality the Big Lie was the Election itself.

The Democrats want to own this day of January 6th so they can stoke fears and divide America. I say, let them have it because America sees through theirs [sic] lies and polarizations."
Biden declared that Trump is "not just a former president" but "he's a defeated former president."
Advertisement - story continues below
President Biden: "He's not just a former president. He's a defeated former president." pic.twitter.com/sal2EiVxoJ

— CSPAN (@cspan) January 6, 2022
Additionally, Biden said during his speech, "The former president of the United States of America has created and spread a web of lies about the 2020 election … He sees his own interest as more important than this country's interest, America's interest."
Trump planned to hold a press conference on January 6 at Mar-a-Lago, but he canceled it "in light of the total bias and dishonesty of the January 6 Unselect Committee of Democrats, two failed Republicans, and the Fake News Media," as he put it.
According to Axios, Sen. Lindsey Graham (R-S.C.) told Trump last weekend "there could be peril in doing a news conference. … Best to focus on election reform instead."
On Jan. 6, 2020, protesters stormed the U.S. Capitol as Congress met to formally certify Biden's election win.
Advertisement - story continues below
According to NPR, "At this point, more than 725 people have been arrested in connection with the Capitol riot. At least 165 have pleaded guilty — 145 of them to misdemeanors and the rest to felonies."
An Axios-Momentive poll, conducted from January 1 to 3 of 2022, found that 57% of Americans believe a repeat of events that occurred on January 6, 2020, is "likely to occur again in the next few years."
Truth and Accuracy
We are committed to truth and accuracy in all of our journalism. Read our editorial standards.
Comment Down Below
Conversation