News
'RINO': Trump Tears Into Bush for Fundraising for Cheney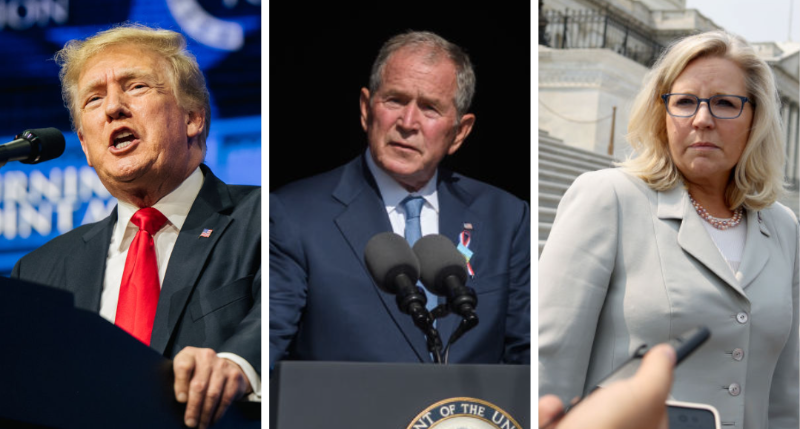 Former President Donald Trump is blasting former President George W. Bush for getting involved in Rep. Liz Cheney's (R-Wyo.) primary race where he has endorsed a challenger.
In a statement on Wednesday, Trump wrote, "RINO former President George 'Dubya' Bush and his flunky Karl Rove are endorsing warmongering and very low polling, Liz Cheney."
"Bush is the one who got us into the quicksand of the Middle East and, after spending trillions of dollars and killing nearly a million people, the Middle East was left in worse shape after 21 years than it was when he started his stupidity. It ended with Biden's most embarrassing in history withdrawal from Afghanistan, a total surrender, leaving $85 Billion dollars of equipment and many young Warriors lives behind," he continued.
Advertisement - story continues below
He added, "Bush is the person who did not have the courage to give a pardon to his Vice President's Chief of Staff, Scooter Libby, even though Cheney begged for him to do so. He wouldn't, they didn't talk for years."
"I didn't know Scooter, but gave him a full pardon—not at their request, but because he deserved it. He suffered greatly. Former Vice President Cheney called to effusively thank me. Now he is on the side of his daughter who is so bad for Wyoming and the United States that she is polling at record lows," Trump said.
Read the statement below:
NEW: Donald Trump drags "RINO" George W. Bush, Rep. Liz Cheney in new statement. pic.twitter.com/nAbPiv0rOk

— Breaking911 (@Breaking911) September 23, 2021
Advertisement - story continues below
Cheney became an outspoken critic of Trump's unfounded claims of widespread fraud in the 2020 presidential election and was one of the 10 House Republicans who voted in favor of impeaching the former president on the charge of incitement of insurrection.
Trump has endorsed Wyoming attorney Harriet Hageman in her primary challenge of Cheney. He called the Wyoming Congresswoman "the Democrats number one provider of sound bites."
The Wall Street Journal reported that Bush is scheduled to hold a fundraiser for Cheney, the daughter of his former Vice President Dick Cheney, in October.
Earlier this month, Cheney was chosen to serve as the vice-chair of the House select committee investigating the U.S. Capitol riot on January 6, 2021.
"Every member of this committee is dedicated to conducting a non-partisan, professional, and thorough investigation of all the relevant facts regarding January 6th and the threat to our Constitution we faced that day," Cheney said in a statement. "I have accepted the position of Vice Chair of the committee to assure that we achieve that goal. We owe it to the American people to investigate everything that led up to, and transpired on, January 6th."
Truth and Accuracy
We are committed to truth and accuracy in all of our journalism. Read our editorial standards.
Comment Down Below
Conversation