News
Trump Told DOJ To 'Just Say That the Election Was Corrupt': Report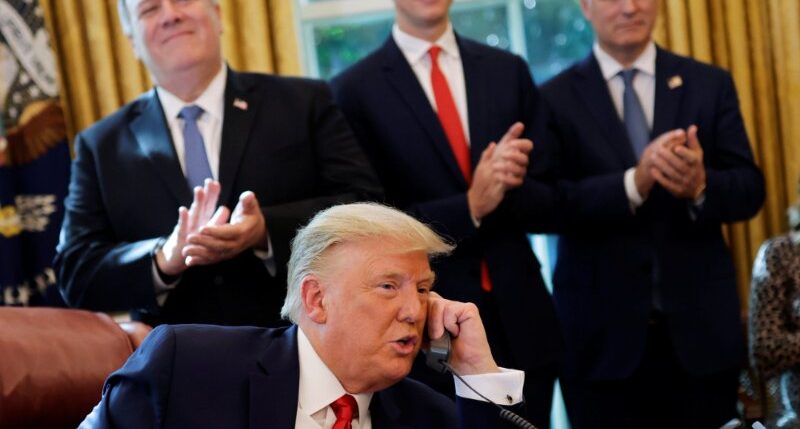 Former President Donald Trump reportedly told the Justice Department to say "the election was corrupt."
According to new documents provided to lawmakers and obtained by The New York Times, the conversation took place during a December 27 phone call where Trump pressed the then-acting attorney general, Jeffrey A. Rosen, and his deputy, Richard P. Donoghue, on voter fraud claims disproved by the department.
"Just say that the election was corrupt + leave the rest to me," Trump said, according to notes taken by Donoghue during the conversation.
Advertisement - story continues below
The notes were provided by the Justice Department to the House Oversight and Reform Committee, which is investigating the Trump administration's efforts to reverse the results of the election, as the Times reports.
Oversight Chairwoman Rep. Carolyn Maloney (D-NY) released a statement on the issue.
"These handwritten notes show that President Trump directly instructed our nation's top law enforcement agency to take steps to overturn a free and fair election in the final days of his presidency," Maloney said.
Donoghue later told Trump to "understand that the D.O.J. can't and won't snap its fingers and change the outcome of the election, doesn't work that way."
Advertisement - story continues below
Trump was also told by officials that the department did not have the evidence to back a lawsuit regarding the election results.
"We are not in a position based on the evidence," they said. "We can only act on the actual evidence developed."
Do you think the election was corrupt?
The notes also showed Trump considered changing leadership of the Justice Department, saying, "People tell me Jeff Clark is great, I should put him in."
He added, "People want me to replace D.O.J. leadership."
Donoghue responded, "You should have the leadership you want." Still, he stressed it "won't change the dept's position."
Advertisement - story continues below
Additionally, the Times points out Trump also told the department to "figure out what to do" with Hunter Biden. He suggested, "People will criticize the D.O.J. if he's not investigated for real."
The newspaper noted the Biden Justice Department told former officials this week they could provide testimony to investigators with the House Oversight and Reform and the Senate Judiciary Committees.
Truth and Accuracy
We are committed to truth and accuracy in all of our journalism. Read our editorial standards.
Comment Down Below
Conversation