News
Trump Touts Loyalty of His Supporters: 'We Have a Base Like No Other'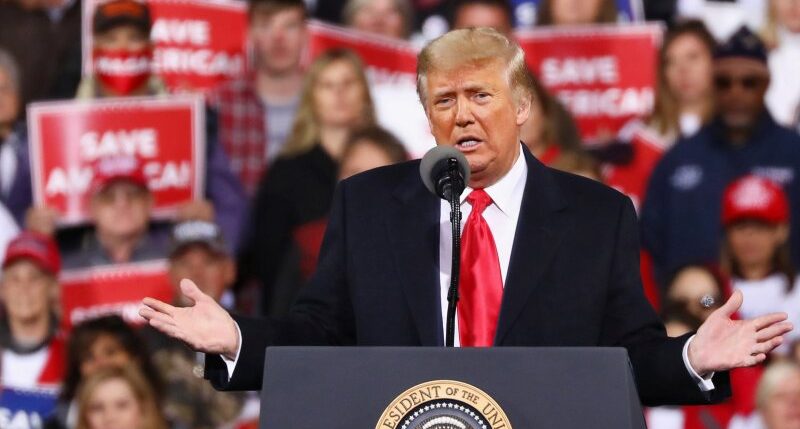 Former President Donald Trump is suggesting his supporters is what sets him apart from other presidents.
During an interview with Washington Post reporters Carol Leonnig and Philip Rucker 70 days after leaving the White House, Trump boasted of his supporters and their loyalty.
The interview was featured in a book excerpt published by Vanity Fair on Monday.
Advertisement - story continues below
"There's never been a base that screams out, with thirty-five thousand people, 'We love you! We love you!'" Trump said.
He added:
"That never happened to Ronald Reagan. It never happened to anybody. We have a base like no other. They're very angry. That's what happened in Washington on the sixth. They went down because of the election fraud. The one thing that nobody says is how many people were there, because if you look at that real crowd, the crowd for the speech, I'll bet you it was over a million people."
Trump claimed, "It was the largest crowd I had ever spoken [to] before."
Advertisement - story continues below
He continued, "It was a loving crowd, too, by the way. There was a lot of love. I've heard that from everybody. Many, many people have told me that was a loving crowd. It was too bad, it was too bad that they did that."
Trump explained he wanted his supporters to go to the Capitol but not inside the building.
"In all fairness, the Capitol Police were ushering people in," Trump said. "The Capitol Police were very friendly. They were hugging and kissing. You don't see that. There's plenty of tape on that."
He told the reporters what he wanted "is what they wanted," adding, "They showed up just to show support because I happen to believe the election was rigged at a level like nothing has ever been rigged before. There's tremendous proof. There's tremendous proof. Statistically, it wasn't even possible that [Biden] won. Things such as, if you win Florida and Ohio and Iowa, there's never been a loss."
The House of Representatives voted to impeach Trump on the charge of "incitement of insurrection" just one week after the protesters stormed the Capitol. He was then acquitted in the Senate.
Truth and Accuracy
We are committed to truth and accuracy in all of our journalism. Read our editorial standards.
Comment Down Below
Conversation