News
Trump Virtually Tied With DeSantis in 2024 Poll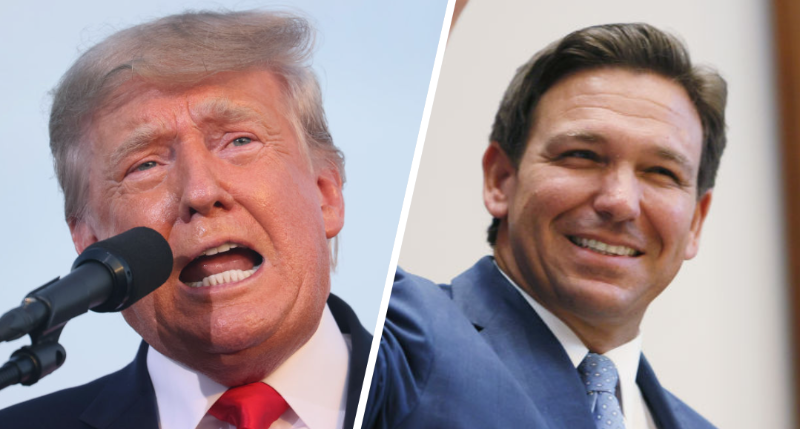 A new poll finds a razor thin race in a hypothetical match-up for the 2024 Republican presidential primary.
Former National Security Adviser John Bolton's Super PAC released a poll that found 26.2% of Republicans said they would vote for former President Donald Trump in the primary while 25.2% picked Florida Gov. Ron DeSantis (R).
In July, 46% of Republican voters said they would vote for Trump to be their nominee.
Advertisement - story continues below
Former New Jersey Gov. Chris Christie (R) came in third place at 7.2%, and former Ambassador to the United Nations Nikki Haley came in fourth place with 6%.
Former Vice President Mike Pence came in seventh place with just 2.6% saying they would vote for him.
In a statement, Bolton said, "These numbers will probably come as a shock to Donald Trump. After 20 years in Afghanistan, it's clear that Americans are unhappy with leaving as we did. Voters were smart enough to see that President Trump started the withdrawal and legitimized the Taliban through negotiations."
"They recognize that withdrawal carries more risks for the homeland than keeping a U.S. and NATO military presence in Afghanistan. Biden bears the responsibly [sic] for the final embarrassing moments, and his corresponding drop in support reflects that, but it's not lost on anyone that Trump, like Biden, wanted to withdraw and shares the blame for the failure," he continued.
Advertisement - story continues below
Finally, Bolton said, "National security matters to voters, especially when failure leads to greater risks, so you rightly see conservatives quickly considering options other than Donald Trump."
Trump has not said whether he plans to run again. However, he told Fox News earlier this month, "I don't think we're going to have a choice. It is disgraceful." 
Do you think Trump should run in 2024?
"It is getting to a point where we really have no choice," he added.
In June, DeSantis narrowly edged out Trump in the Western Conservative Summit's straw poll for the 2024 presidential primary.
Truth and Accuracy
We are committed to truth and accuracy in all of our journalism. Read our editorial standards.
Comment Down Below
Conversation