News
Trump's 'Good Guy' Comment About DeSantis Might Not Be How He Really Feels: Report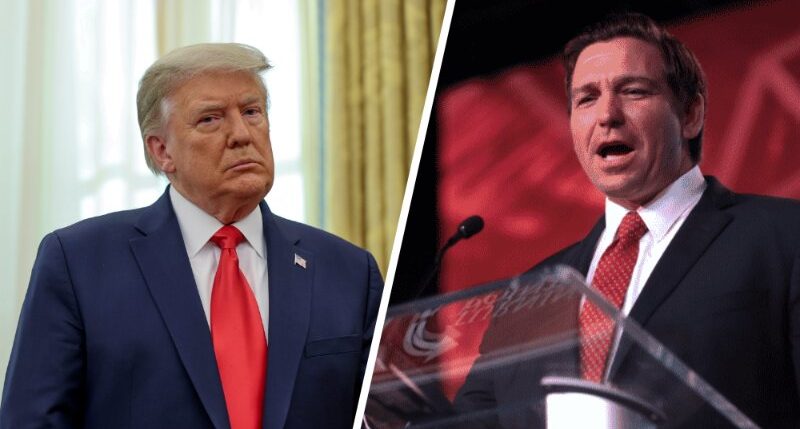 Former President Donald Trump has a stronger dislike for Florida Gov. Ron DeSantis (R) than he previously indicated, according to a new report.
A Trump confidant told Vanity Fair, "Trump f****ing hates DeSantis. He just resents his popularity," The outlet noted Trump said of DeSantis, "Ron is a good guy."
According to a prominent Republican, Trump is frustrated with DeSantis because he does not give enough credit to him for his success.
Advertisement - story continues below
"Trump tells people, 'I made Ron.' Trump says that about a lot of people. But in this case, it's actually true," the Republican said.
Still, the former president told the outlet, "He gives me good credit."
Sources said then Congressman DeSantis received Trump's support during the 2018 gubernatorial election. Trump explained, "He asked me if I'd endorse him."
Trump added, "The second I endorsed Ron, he blew through everybody."
Advertisement - story continues below
Vanity Fair pointed out other examples of how DeSantis irritated Trump, including refusing to cooperate with Trump's pleas to close beaches in Florida amid the COVID-19 pandemic and his frustration over Trump's plans to hold a MAGA rally following the Surfside condo collapse in June.
Former Trump adviser Sam Nunberg suggested to the outlet, "Heading into 2024, DeSantis is primed to push Trump off the throne."
He continued, "Trump surely sees this coming and will ultimately offer Governor DeSantis a joint ticket."
In a July CPAC straw poll, 70% of Republicans said they would vote for Trump in the 2024 Republican primary if it "were held today." DeSantis received 21%.
During the Vanity Fair interview, Trump also took a swipe at possible Republican presidential contender and his former United Nations ambassador Nikki Haley.
Advertisement - story continues below
"Well, every time she criticizes me, she uncriticizes me about 15 minutes later," Trump said. "I guess she gets the base."
Haley criticized Trump's post election behavior in February, saying, "When I tell you I'm angry, it's an understatement."
Truth and Accuracy
We are committed to truth and accuracy in all of our journalism. Read our editorial standards.
Conversation